Your financial support of the JSO provides the resources to keep high quality performance and Educational program part of community life. There are many ways of giving to the Jackson Symphony Orchestra. As our way of saying thank you, donor benefits are available for various giving levels. Contributors at the $750 level and above are eligible for complimentary valet parking at all Subscription Series concerts.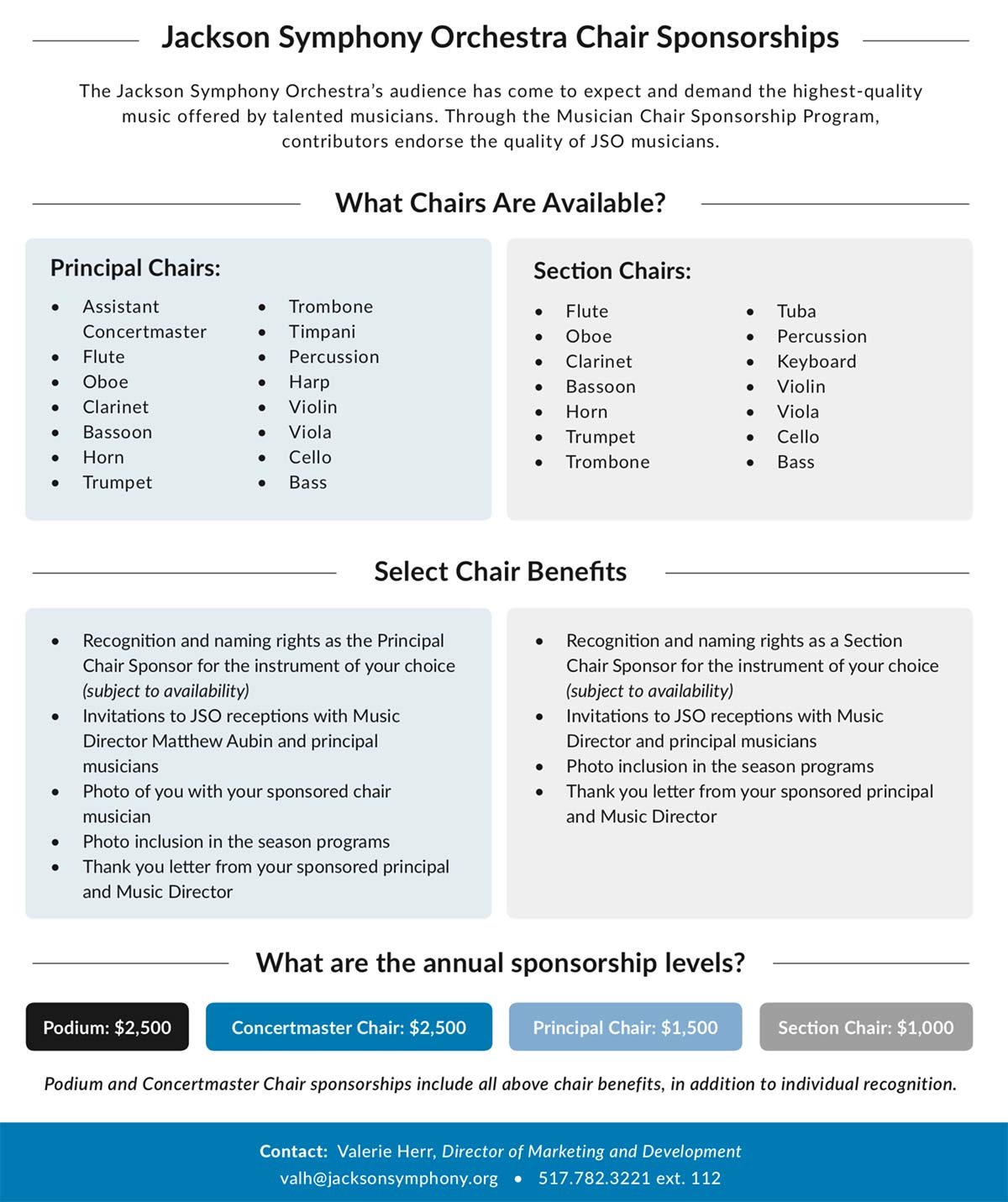 Erin Mazur and Marco Shehab
Be a part of a vibrant arts organization! Get involved now! The JSO is looking for reliable volunteers to help in the office downtown. We need individuals interested in helping with basic office tasks, assisting at JSO concerts, working on JSO archives, and providing orchestra hospitality. You will be doing a great service for the JSO and at the same time will become part of a vibrant and interesting work environment.
Jackson Symphony Orchestra Association Foundation, Inc.
Give a lasting legacy. The Jackson Symphony Orchestra Association Foundation, Inc. is the financial underpinning of The Jackson Symphony Orchestra Association. Thanks to the generosity of our donors and the investment expertise of our Trustees, the endowment now exceeds $1 million, remarkable for a regional orchestra. Increasing the endowment is a top priority for securing the future of the JSO. Gifts to the endowment can be made outright during a donor's lifetime or through a retirement plan, insurance policy, estate or trust. Become a member of the Legacy Society today. When making your will or other estate plans, please consider the Jackson Symphony Orchestra. A bequest in your will can be as simple as: I give ($__) or (__%) of the residue of my estate) to the Jackson Symphony Orchestra Endowment. See your attorney or contact us. Have you remembered the JSO in your Estate Plan? If you have, kindly let us know so that we can say thank you now.
The JSO Program Book offers businesses and organizations an excellent vehicle for reaching customers while supporting the JSO. Program Books are read by an educated, connected, and committed community population – Plus your advertisement will help keep our ticket prices affordable, and our education and outreach programs available and accessible to all in the community. And most importantly, your support makes a statement that you care about the arts in our community. Every advertisement appears in five subscription series concert programs and is listed in our pops concert programs. Please contact us to learn more about advertising with JSO.
Inside Back
Full Color – $2000
Black & White – Not Available
Full Page
Full Color – $1850
Black & White – $1300
Half Page
Full Color – $950
Black & White – $700
Fourth Page
Full Color – $510
Black & White – $375
Eighth Page
Full Color – $340
Black & White – $250
AmazonSmile is a simple and automatic way for you to support your favorite charitable organization every time you shop, at no cost to you. When you shop at smile.amazon.com, you'll find the exact same low prices, vast selection and convenient shopping experience as Amazon.com, with the added bonus that Amazon will donate a portion of the purchase price to your favorite charitable organization. You can choose from nearly one million organizations to support.
View the full GuideStar profile for Jackson Symphony Orchestra here: