The Jackson Symphony Orchestra has a rich and vibrant history serving the Jackson area since 1949. The orchestra has performed with many legendary figures in the world of music including Dizzy Gillespie, Grant Johannesen, Ralph Votapek and Ian Hobson. Mannheim Steamroller, Ann Murray, and the Manhattan Transfer have invited the orchestra to do multi-state regional tours with them. The repertoire of the orchestra has been adventurous (including two entire seasons where every piece performed was from the 20th Century) and has drawn national attention as evidenced by frequent grants from the National Endowment for the Arts. The orchestra has premiered works by such distinguished composers as Jeff Beal, Crawford Gates, David Gibson, Robert De Gaetano, Falla Guitar Trio and it's own composer in residence, J. Bruce Brown. Operas including Tosca, La Boheme, Merry Wives of Windsor, Die Fledermaus have been presented in fully staged productions and eight different collaborations with the Indianapolis Ballet and Grand Rapids Ballet have resulted in magical productions of Sleeping Beauty and Nutcracker.

Mission
Be one of the most innovative, inspiring and successful music arts organizations in Michigan.
Vision
Enrich our communities by providing superior performance, listening and learning experiences in a variety of settings.
Matthew Aubin
Music Director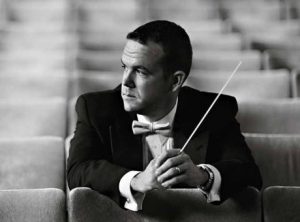 Matthew Aubin is Artistic Director of The Chelsea Symphony and a consultant for the Golden Globe Award winning television series, Mozart in the Jungle. He has conducted and performed all across the United States and abroad. He is a passionate advocate for American music. Dr. Aubin has an extensive background in music education, and has served on the faculties of The Hartt School and Washington State University. Additionally, he has designed and conducted many programs for the Hartford Symphony Orchestra. Dr. Aubin has conducted scholarly research on the French composer Fernande Breilh-Decruck and has rediscovered and performed many of her unpublished manuscripts. In addition to his conducting career, Dr. Aubin continues to stay active as a freelance hornist.
1949
The Jackson Symphony Orchestra is founded.
The JSO is a strong regional orchestra performing 5 subscription concerts, 2 pops concerts, 4 chamber concerts, Jazz Night performances and numerous in-school children's concerts annually.
1980
Principle performance venue moves from Jackson High School to Jackson Community College.
1985
The JSO moves into its own rehearsal/office space at the Commercial Exchange.
1991
The Community Music School (JSO CMS) is launched.
The school was founded with two objectives 1) To provide quality private and group instruction on orchestral instruments for community residents; 2) To provide additional employment opportunities for orchestra members to attract and maintain quality players for the orchestra. Today, the music school instructs nearly 250 students and maintains a faculty of 16 instructors, most of whom are orchestra members.
1994
The JSO completes $1.4 million capital/endowment campaign.
This provides a home for the orchestra in the center of downtown Jackson. The facility, made available by Comerica Bank at a favorable lease agreement, includes 11,000 square feet of rehearsal, office and studio space. Over 500 individuals attend weekly for lessons, rehearsals, concerts, classes, and community meetings.
1999-2000
JSO celebrates 50 years
Plans broaden the community reach of the organization as follows:
Babies in Tune The families of all babies born in Jackson County receive a complimentary CD and infant development instructional booklet developed and recorded by the JSO.
After School String Programs for Children at Risk The JSO conducts after-school string programs for children in 2nd – 5th grades. Over 350 children participate; 50% are minorities.
Home School Orchestra Children meet twice weekly at the JSO. Beginning and intermediate level small ensemble instruction is offered.
Chamber Series We feature JSO resident musicians and offer classical, 20th Century and Jazz repertoires.
String Academy Providing an intensive course of study for young musicians, admittance to the JSO string academy is through audition only. Private instruction is required.
Summer Strings Camp/ Piano Camp Three week summer music offering concentrates on musicianship, playing, fun with music with peers, and small ensemble work.
JSO Goes to School An umbrella program for in-school education providing a music education/concert experience for grade school students. 3,000 children served annually.
JSO String Team Jump start group instruction for beginning string students. String Teams meet twice weekly in large and small group settings.
2007
Maestro Osmond celebrates 30 years as Music Director of the JSO.
JSO Community Music School celebrates 15 years in downtown facility.
Comerica donates building to JSO.
A gift valued at nearly $1 million provides additional 16,000 square feet and is the catalyst for moving forward with a vision for the future.
JSO Launches $4.5 million Capital and Endowment Campaign, Sound Vision.
2009-2010
JSO celebrates 60 years of music making
Adult Music Appreciation
A new 5 week music education program, taught by Dr. Andrew Mead, Professor of Music Theory, University of Michigan, was sold out. New adult education classes are planned.
Jammin' at the JSO
A project of the JSO Youth and Music Committee hosted over 100 young people and their parents for a uniquely creative alternative rock concert in Weatherwax Hall. This event was designed by youth to provide a safe environment for young people to express themselves in music.
Redesigned Chamber Concerts
JSO Chamber Concerts were redesigned to provide provide refreshments and a more intimate atmosphere for players. Attendance climbs significantly.
JSO Pied Piper Project
During this 5-week program in three county schools, 4th and 5th grade students received visits from JSO musicians nad teaching specialists to explore music, instruments, composition and music history. Made possible through Campaign Program support.
String Team in School Program
Selected 4th & 5th grade students meet twice weekly throughout the school year with a string specialist provided by the JSO, and includes movement for those who wish to continue to continue to the JSO youth orchestra programs.
JSO Recreational Music Making
Pilot program offers "brush-up" group piano lessons for adult beginners and those with limited playing experience. Classes meet during the lunch hour or after work.
2012