The Jackson Symphony Orchestra has a rich and vibrant history serving the Jackson area since 1949. The orchestra has performed with many legendary figures in the world of music including Dizzy Gillespie, Grant Johannesen, Ralph Votapek and Ian Hobson. Mannheim Steamroller, Ann Murray, and the Manhattan Transfer have invited the orchestra to do multi-state regional tours with them. The repertoire of the orchestra has been adventurous (including two entire seasons where every piece performed was from the 20th Century) and has drawn national attention as evidenced by frequent grants from the National Endowment for the Arts. The orchestra has premiered works by such distinguished composers as Jeff Beal, Crawford Gates, David Gibson, Robert De Gaetano, Falla Guitar Trio and it's own composer in residence, J. Bruce Brown. Operas including Tosca, La Boheme, Merry Wives of Windsor, Die Fledermaus have been presented in fully staged productions and eight different collaborations with the Indianapolis Ballet and Grand Rapids Ballet have resulted in magical productions of Sleeping Beauty and Nutcracker.

Mission
Be one of the most innovative, inspiring and successful music arts organizations in Michigan.
Vision
Enrich our communities by providing superior performance, listening and learning experiences in a variety of settings.
Matthew Aubin
Music Director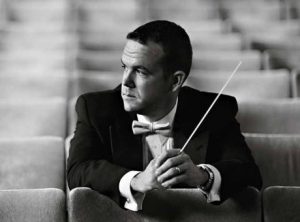 Matthew Aubin is Artistic Director of The Chelsea Symphony and a consultant for the Golden Globe Award winning television series, Mozart in the Jungle. He has conducted and performed all across the United States and abroad. He is a passionate advocate for American music. Dr. Aubin has an extensive background in music education, and has served on the faculties of The Hartt School and Washington State University. Additionally, he has designed and conducted many programs for the Hartford Symphony Orchestra. Dr. Aubin has conducted scholarly research on the French composer Fernande Breilh-Decruck and has rediscovered and performed many of her unpublished manuscripts. In addition to his conducting career, Dr. Aubin continues to stay active as a freelance hornist.