DONOR STORIES
FAITH SMALL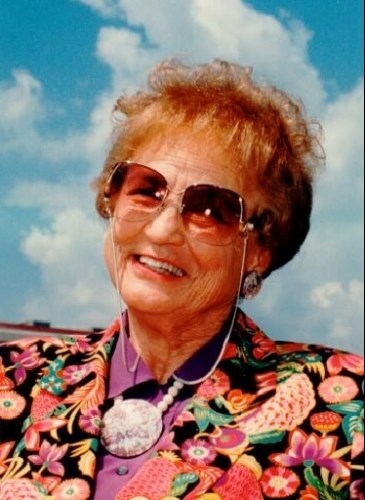 To say that Faith Small led an extraordinary life would be an understatement. From helping run her daughter's Girl Scout troop to running a manufacturing company, Faith lived life to the fullest. Faith was married to Edwin Small. Together they raised their daughter Hope. Ed passed away in 1984, leaving Faith with his manufacturing plant. Instead of selling it, Faith ran it. Years later she would acquire Jonesville Tool & Machine, Inc. which was in bankruptcy, but she was determined to invest and keep it running. Faith did just that. Her goal in investing was never to acquire personal wealth, but to preserve jobs that would benefit the community.
Generosity is truly Faith's legacy. She volunteered her time, invested in the community, and anonymously made charitable gifts to various causes. In 2001 the Faith F. Small Foundation was established.
Faith passed away June 26, 2016 at the age of 94. Her legacy of generosity lived on after her passing. Among the beneficiaries of her generosity was the Jackson Symphony Orchestra. Through her posthumous contributions, the JSO has been able to do many things that would not otherwise have been possible, including completing a major renovation of Weatherwax Hall, endowing the Music Director position and bolstering its endowment.
JSO FOUNDATION
Give a lasting legacy. The Jackson Symphony Orchestra Association Foundation, Inc. is the financial underpinning of The Jackson Symphony Orchestra Association. Thanks to the generosity of our donors and the investment expertise of our Trustees, the endowment now exceeds $1 million, remarkable for a regional orchestra. Increasing the endowment is a top priority for securing the future of the JSO. Gifts to the endowment can be made outright during a donor's lifetime or through a retirement plan, insurance policy, estate or trust. Become a member of the Legacy Society today. When making your will or other estate plans, please consider the Jackson Symphony Orchestra. A bequest in your will can be as simple as: I give ($__) or (__%) of the residue of my estate to the Jackson Symphony Orchestra Endowment. See your attorney or contact us. Have you remembered the JSO in your Estate Plan? If you have, kindly let us know so that we can say thank you now.
LASTING LEGACIES – CAMPAIGN AND ENDOWMENT GIVING
GIFTS OF $1,000,000+
Weatherwax Foundation
GIFTS OF $500,000 TO $999,999
Comerica Bank
GIFTS OF $100,000 TO $499,999
Dorothy M. Blakely Foundation
Benjamin and Mildred Carr, Concertmaster Chair
Bea and A.P. Cook III, Endowed Principal Second Violin Chair
The Dawn Foods Foundation and the People of Dawn Food Products
Dr. David and Patricia Eggert Endowed Principal Cello Chair
Herrick Foundation
Jackson Community Foundation
Estate of Mary Elizabeth Johncox
Frank Main
Mrs. Andrew K. Payne
Phil and Pat Willis
GIFTS OF $25,000 TO $99,999
Allegiance Health
American 1 Federal Credit Union
Anonymous
Lawrence and Valerie Bullen
City Bank and Trust Co.
Consumers Energy Foundation
Philip J. Curtis
Eaton Corporation
The Evanson/Sanders Families
Gaynel L. Fausell Charitable Trust
Dr. Cathy Glick and Mr. Larry Halman
The Grace Family – Jim, Joyce, Jamie and Lori – Endowed Associate Concertmaster Chair
Hancock Foundation
Mabel Harris Trust
Art and Sallie Henrie
The Hurst Foundation
Mary Ingram
Carol and John Isles
City of Jackson/MCACA
Jackson Community College
Jackson Symphony Guild
Robert and Laurie LaZebnik
In memory of Donald and Viola Main Endowed Principal Oboe Chair
William and Kae Marcoux
Honorable Charles and Pat Nelson
Orthopaedic Rehab Specialists, P.C.
John and Frances Parker Endowed Principal Viola Chair
Anne Platt Moore Fund
Robert and Mary Smith, Bond & Company, PLC
The Trosin Family
Dr. Arthur and Mrs. Anne Vendola
Mr. and Mrs. James F. Winter
GIFTS OF $10,000 TO $24,999
ADCO Products Inc.
William O. Allen
Alro Steel Foundation/Louis Glick Trust
Jan and Doug Burdick
Samuel Higby Camp Foundation
Classic Turning, Inc.
County National Bank
Mrs. Robert Crary, Jr.
Pat and Marlene Cunningham
Philip C. Curtis Charitable Trust for the Encouragement of the Arts
Robert and Cynthia Davey
Carl and Linda English
Flagstar Bank
Lloyd and Judith Ganton
John George, Jr. Student Loan Fund
Laurence S. Haynes Estate
Industrial Steel Treating
Jackson Citizen Patriot
City of Jackson, DDA
Jacobson Stores
James A. and Faith Knight Foundation
Mick and Aileen Lutz, Midbrook, Inc.
Dr. John and Terry McLaughlin
Melling Family
Orville D. & Ruth A. Merillat Foundation
Michigan Automotive Compressor, Inc.
Philip and Karen Moilanen
Stephen and Melissa Osmond
Tony Pinson, M.D., Pinson Urology Center
Thomas and Susan Rochester
JoAnne and Mark Rosenfeld
Mr. and Mrs. William Sigmund
Allen E. Spiess, Jr.
Spring Arbor University
Dr. and Mrs. Allan L. Tompkins
Barbara Trudgen
Bonnie J. and Lynn C. Van Wagnen
GIFTS OF $5,000 TO $10,000
Tony Mira, Anesthesia Business Consultants
Architonics
Arthur Andersen/Andersen Consulting
Bisbee Travel – Clark Bisbee
Lawrence D. Sr. and Dolores Bos
The Estate of Mary L. Boyers
The Estate of Elizabeth Burnett
James C. Butterfield Investments
GIFTS OF $5,000 TO $10,000 (Continued)
Mr. William P. Cooke
Sandy and David Craft Family
John and Ann Cross
Mr. and Mrs. Charles Danby
Frederick and Deborah Davies
Mrs. Betty Desbiens
David and Julie Duesing
Karen F. Dunigan
Ella Sharp Museum
Ron Ellison
Robert and Harriette Emmet
Georgia and Travis Fojtasek
Myer and Lois Franklin Charitable Trust
Mrs. David J. Fuchs
Linda and Chuck Furgason
General Products Corporation
Great Lakes Bancorp
Edward and Helen Greene
Ron and Sharon Griffith
Bob and Jane Grover
Louise Hefka
Ron and Marvel Jones
Patty Kaufman
Timothy and Shari Keener
Rob and LeeAnn Kendall
Kent-Moore
Dr. and Mrs. Robert Kobs
Nancy M. Kyro
Jon and Donna Lake
Mr. and Mrs. John Leland
Jan and Bob Luton
Wid and Marcia Mac Cready
Markowski & Company CPAs
Erin Mazur and Marco Pullan
Mrs. Hugh B. McVicker
Dr. R. Charles and Christina Medlar
David and Gretchen Mikelonis
Cherie and Bob Moore
Dr. and Mrs. David Munro
Gil and Cindy Jones O'Rourke
Drs. Dan and Adriana Phelan and Family
Earl and Candy Poleski
Republic Bank
Dr. Cynthia A. Rider
Mr. and Mrs. Roy Rider
Mrs. Patricia Riggs-Berthold
Dr. Philip and Joane Riley, Jr.
Richard Z. and Edie W. Rosenfeld
Mrs. Earl Spiesberger
Mary and Jim Spring
Mrs. T. Harrison Stanton
Edward Surovell Realtors
Peter and Amanda Vincich
Mr. and Mrs. James F. Walker
Lee and Helen Zimmerman