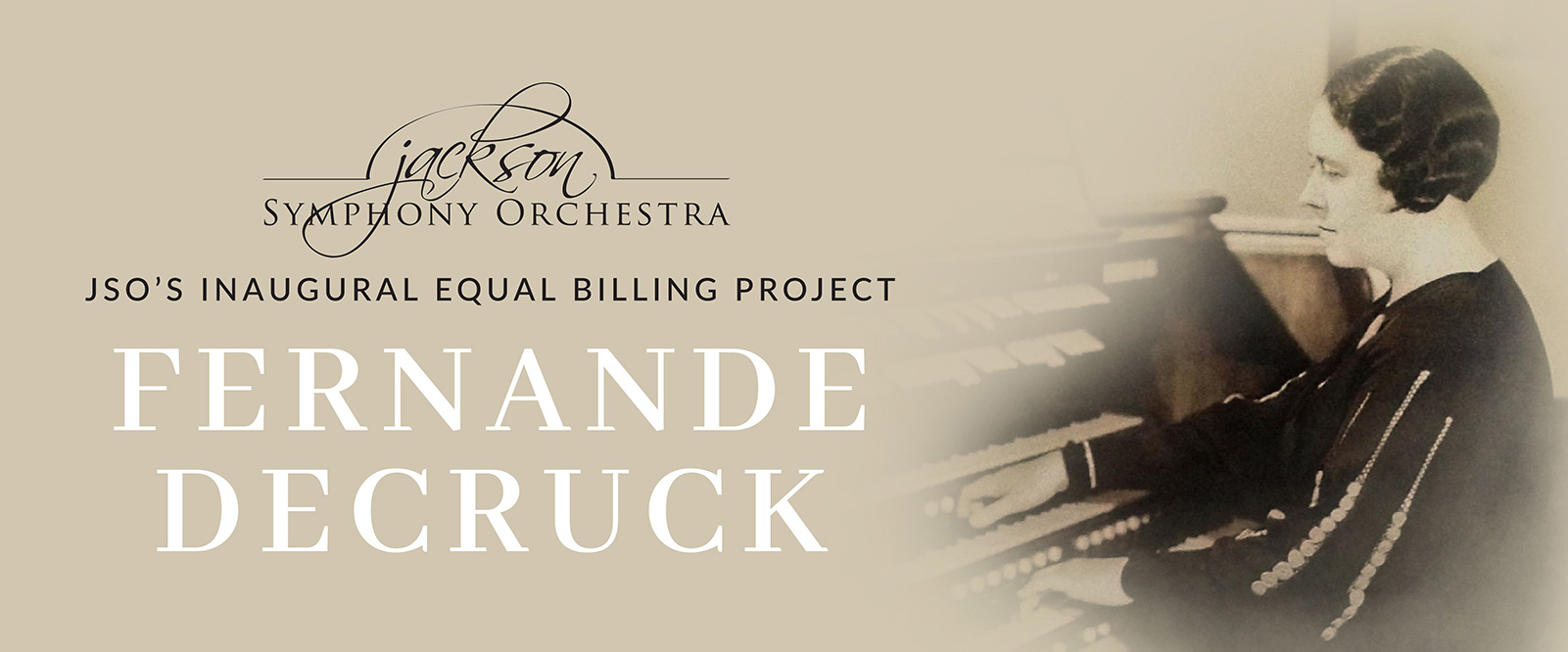 In the winter of 2021/2022, The Jackson Symphony Orchestra under the leadership of Matthew Aubin and joined by soloists Carrie Koffman (saxophone), Amy McCabe (trumpet), Leelanee Sterrett (horn), and Chen-Yu Huang (harp) will record three concerti by Fernande Decruck with the intention of bringing many of her unrecorded manuscripts to life.
The Jackson Symphony Orchestra's "Equal Billing Project" aims to record and support the music of a deceased composer that wasn't equally billed or recognized during their lifetime. The project supports costs associated with recording, research, music publication and travel.
Sonate en ut dièze mineur pour saxophone alto et orchestre (1943)
Carrie Koffman – Saxophone
The Sonata in C-sharp minor for alto saxophone (or viola) is Decruck's most well-known work. Decruck created two versions of her world famous sonata, one with saxophone or viola and piano, the other with full orchestral accompaniment. The latter version is rarely heard. Decruck combines the Classical sonata form with impressionistic harmony and at times, polytonality. Decruck dedicated this work to Marcel Mule, the world renowned French saxophonist. Although Mule had countless compositions written for him in his lifetime, he took the time to record the Fileuse and Andante movements of the Sonata. Fileuse ("spinning") features the saxophonist performing virtuosic passage works and takes the traditional place of the Scherzo.
Poême héroïque pour trompette solo en ut, cor solo en fa et orchestre (1946)
Amy McCabe – Trumpet | Leelanee Sterrett – Horn
Written in 1946, Poême Héroïque is a double concerto for solo trumpet, horn and orchestra. The work often features the two solo instruments in imitation and is a fantastic example of Decruck's mature style. Divided into 3 contrasting movements, the work is notable for its use of contrasting time signatures like 24/16 and 2/4. It is unknown whether the work was ever performed or who it was written for. Decruck moved to Marblehead, Massachusetts the following year and in 1948 created a reduction of the work for solo trumpet and piano. It is likely that she created this version for Roger Voisin, the famous, French principal trumpet of the Boston Symphony Orchestra.
Concerto pour harpe et orchestre (1944)
Chen-Yu Huang – Harp
With the recent discovery of her Sonata in C-sharp minor for alto saxophone, Decruck's works are gradually becoming known. French composer Decruck was a prolific and successful composer in her time, particularly during WWII. However, after the war, due to a variety of circumstances, she had trouble finding performance opportunities. Concerto pour harpe et orchestre, was dedicated to and premiered by French harpist and pedagogue, Pierre Jamet in 1946, who later became the harp professor at the Conservatoire de Paris in 1948. Her Concerto recalls similarities with Geramine Tailleferre's Sonate pour la harpe. It is a concertino in style, light-hearted, warm, and full of surprises.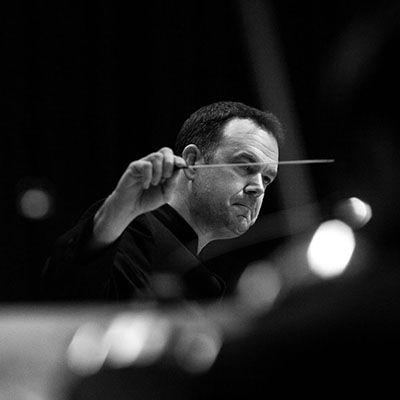 A leader in the 21st century orchestral landscape, Dr. Matthew Aubin is constantly reaching new audiences through innovative performance formats and creative initiatives both on and off the podium.
In his 3rd season as Music Director of the Jackson Symphony Orchestra, Dr. Aubin also serves as Artistic Director for The Chelsea Symphony in New York City. In this role he has led highly visible collaborations with partners such as actor John Lithgow, award-winning television series Mozart in the Jungle, and the American Museum of Natural History in New York City. Dr. Aubin has played a principal role in the initiation and development of The Chelsea Symphony's annual competition for emerging composers with high profile adjudicators such as Conductor Laureate of the Seattle Symphony and music director of the All-Star Orchestra, Gerard Schwarz. Dr. Aubin has led TCS in their Lincoln Center debut and conducted the New York City premieres of works by Mark O'Connor, Fazil Say and Caroline Shaw, among others.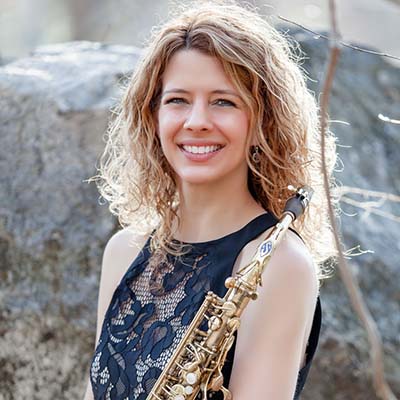 Carrie Koffman is Associate Professor of Saxophone at The Hartt School of Music, Dance and Theater at the University of Hartford and Lecturer of Saxophone at the Yale School of Music. Prior to this, she held positions as Assistant Professor of Saxophone at Penn State University, Assistant Professor of Saxophone at the University of New Mexico, and Lecturer at Boston University.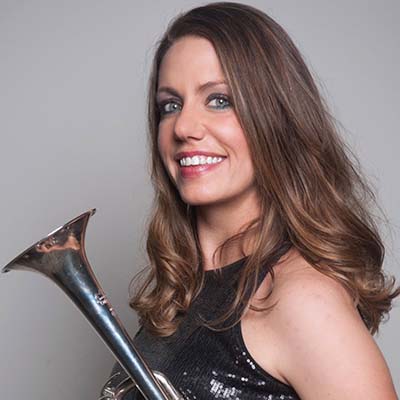 "…performed with agility and aplomb" —Washington Post
Amy McCabe, a resident of Washington D.C., has shared music on her trumpet in a variety of genres across the globe. She was recently a soloist at the International Trumpet Guild conference, the International Women's Brass conference, and was a featured soloist with the National Youth Brass Band of Great Britain in London's Regent Hall. Amy was also a soloist on tour with The "President's Own" United States Marine Band in 2016 and 2018, including a performance at Chicago's Symphony Center. Amy is also an active chamber musician, recently performing a trumpet duo in the newly renovated Kennedy Center Terrace Theater, and also performed and recorded a brass quintet album with Summit records at the Lieksa Brass Week in Lieksa, Finland.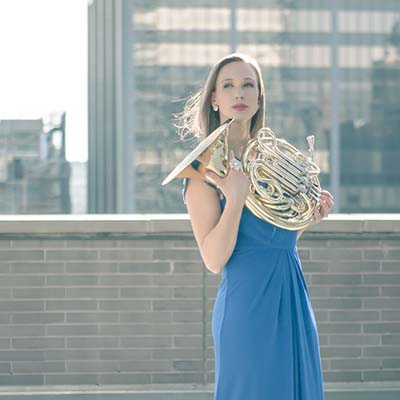 Leelanee Sterrett joined the New York Philharmonic in June 2013 and currently serves as Acting Associate Principal Horn. She was previously a regular substitute musician with the Philharmonic, a member of the New Haven Symphony Orchestra, and a fellow of Ensemble Connect, Carnegie Hall's collective of young professionals and music advocates. In recent seasons, Ms. Sterrett has made solo appearances at Carnegie Hall, with the New Haven Symphony Orchestra, and at the 2015 and 2018 International Horn Symposia. She also serves on the horn faculties of New York University and Rutgers University.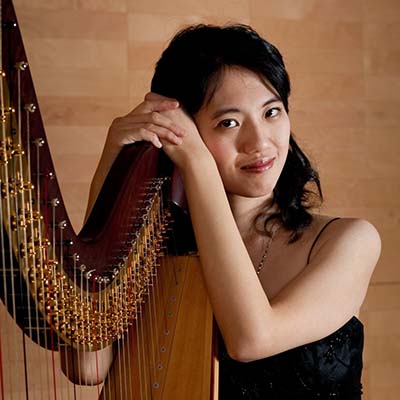 Known for her charismatic and fervent musicianship, Chen-Yu Huang is rising up as a performer and a teacher in the Midwest. She joins Michigan State University College of Music as Assistant Professor of Harp in 2014. She is currently the Principal Harpist of Jackson Symphony Orchestra and Ann Arbor Symphony Orchestra, and the harpist of Formosa Trio and Accorda Trio. She is the winner of the Krannert Debut Artist Award 2010 and a recipient for Kate Neal Kinley Memorial Fellowship 2010-2011, of both prizes she is the first harpist ever to be awarded. Other honors include the winner of the State of Illinois Senior Division in the 2007 American String Teacher Association National Solo Competition, finalist for the 2006 National Anne Adams Award Auditions, winner of the 2008 String Division Concerto Competition. Currently, Chen-Yu is the president of West Michigan Chapter and one of the Directors-at-Large of American Harp Society, Inc..
INTERVIEWS WITH FERNANDE DECRUCK'S FAMILY
$2,500 – Framed and signed commemorative poster and all below
$1,000 – Name listed on CD booklet and all below
$500 – Copy of the CD
$10,000 – David and Patricia Eggert
$5,000 – Matthew and Michelle Aubin
$5,000 – Andrea and Bill Stickney
$3,000 – Richard and Michele Duvauchelle
$2,500 – Erin Mazur and Marco Shehab
$1,000 – Kathryn Keersmaekers
$1,000 – Shaun and Linda Huang
$500 – Dan and Amanda Casillo
$500 – Stephen and Shelby Foster