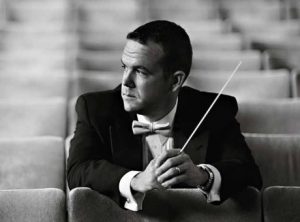 Matthew Aubin
Music Director
A passionate advocate for American and contemporary music, Matthew Aubin has conducted and performed internationally from Benaroya Hall to Carnegie Hall to the Musikverein and many stops in between. After a national search yielded nearly 100 applicants, he was chosen from a list of six finalists as Music Director of the Jackson Symphony Orchestra (Michigan). Additionally, Aubin serves as Artistic Director for The Chelsea Symphony (TCS) in New York City. In this role he has worked to expand the symphony's prestige and recognition. Aubin has played a principal role in the initiation and development of The Chelsea Symphony's annual competition for emerging New York area composers. The Conductor Laureate of the Seattle Symphony and music director of the All-Star Orchestra, Gerard Schwarz, adjudicates the competition. Dr. Aubin has led TCS in their Lincoln Center Debut and conducted the New York City premieres of works by Mark O'Connor, Gerard Schwarz and Caroline Shaw, among others. During his time as Artistic Director, TCS has also featured many celebrities as narrators for their annual holiday concert. Additionally, Aubin has served as a consultant for the films Bel Canto starring Julianne Moore, The Joker, and the Golden Globe award-winning television series Mozart in the Jungle.
Aubin is the foremost scholar on the French composer Fernande Breilh-Decruck. He has earned multiple research grants to study her significant life and work. Aubin is a champion of the critical role of women in composition and is working to promote Decruck's newly discovered lost music. He has edited and created critical editions of her work, which are now in the process of publication. Aubin has collaborated with several musicians to organize performances of Decruck's music in the United State and abroad. He continues to be active as a freelance horn player, and regularly performs across the country. Prior to his current positions, Aubin was the Educational Programs Conductor for the Hartford Symphony Orchestra and served on the faculties of Washington State University and The Hartt School.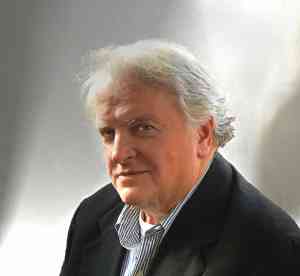 Stephen Osmond
Conductor Laureate
Stephen Osmond, a Yale University Graduate, has been an important figure in Michigan's musical world for more than two decades and is the JSO's first music director to make Jackson his home. His professorship at the University of Michigan led to performances in New York's Carnegie Recital Hall. He has appeared as guest conductor with many orchestras in Michigan as well as orchestras in California, Utah, New York, Connecticut, Ohio and Illinois. The Jackson Symphony Orchestra and its audience have grown steadily as a result of Maestro Osmond's dynamic leadership and imaginative programming. An advocate of music of our time, the all 20th Century season recently presented by the JSO captured the attention and admiration of musicians and arts advocates nationally.
Past Conductors
Jerry Bilik (1975-1978)
Herbert Butler (1972-1975)
Theo Alcantara (1968-1972)
Richard Massman (1962-1963)
Romeo Tata (1961-1962)
Gustave Rosseels (1960-1961)
George C. Wilson (1957-1960 & 1963-1968)
Emil Raab (1954-1957)
Pedro Paz (1950-1955)