The Jackson Symphony Orchestra seeks to engage audiences of all ages in musical experiences. Our Community Music School offers lessons for all and we program pops concerts every year around holidays and themes that are fun for the whole family. Check our upcoming special events below.
AUGUST 26, 2022
HORACE BLACKMAN PARK
Join the JSO in honoring both fictional and real heroes and heroines that give the people in our country hope! This concert will start by exploring theme songs for heroes that we all know and love from Superman to Wonder Woman. Then, we'll take the second half of our concert to play some epic music to honor heroes from the common man to the many war heroes and veterans in our community.The concert is free but you can purchase VIP tickets for $30 which includes special seating and one drink ticket.
OCTOBER 29, 2022
MICHIGAN THEATRE
Costumes, candy, and more! Your little ghost or goblin will help haunt the Michigan Theatre for the Jackson Symphony Orchestra's Halloween Children's Concert. This exciting program features frightfully fun symphonic music perfect for young eyes and ears. The entire family is invited to dress up in their favorite costume along with our musicians to enjoy "boo-tiful" music! This concert is a wonderful chance for you to introduce your children to the wonders of live orchestral music.
DECEMBER 9, 10, and 11
POTTER CENTER
Ballet Chelsea proudly presents its 25th annual performance of The Nutcracker, a Christmas Eve tale about a young girl named Marie and her magical journey to the enchanted Kingdom of Sweets. Choreographed by Artistic Director Wendi DuBois, the Ballet Chelsea company artists and the Jackson Symphony Orchestra musicians will come together for the fourth year to present this annual full-length, narrated ballet.
MAY 20, 2023
MICHIGAN THEATRE
Explore the world of Harry Potter through sound. The JSO will again be bringing the world of Harry Potter to life at the historic Michigan Theatre of Jackson. This interactive experience will feature some of your favorite characters from the movies. Be sure and come dressed as your favorite witch or wizard and be prepared for a magical evening.
The Jackson Symphony Orchestra is proud to bring Babies in tune online. Children naturally love music and, in fact, it's good for them! Studies show that early exposure to music helps with the development of physical growth, the brain & nervous system, learning abilities, and natural musical abilities. Babies in Tune is part of a larger musical education initiative by the JSO and Community Music School which offers early childhood music education classes. Please enjoy our selection of music meant to enrich your babies lives.
Introduction: Track 1
Dance & Move: Track 2-6
Listen & Rest: Track 7-18
Carnival Of The Animals – St. Saens: Track 19-22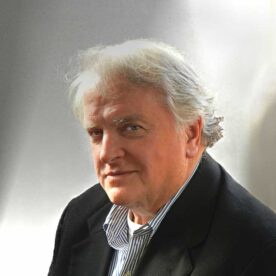 Stephen Osmond
Conductor Laureate