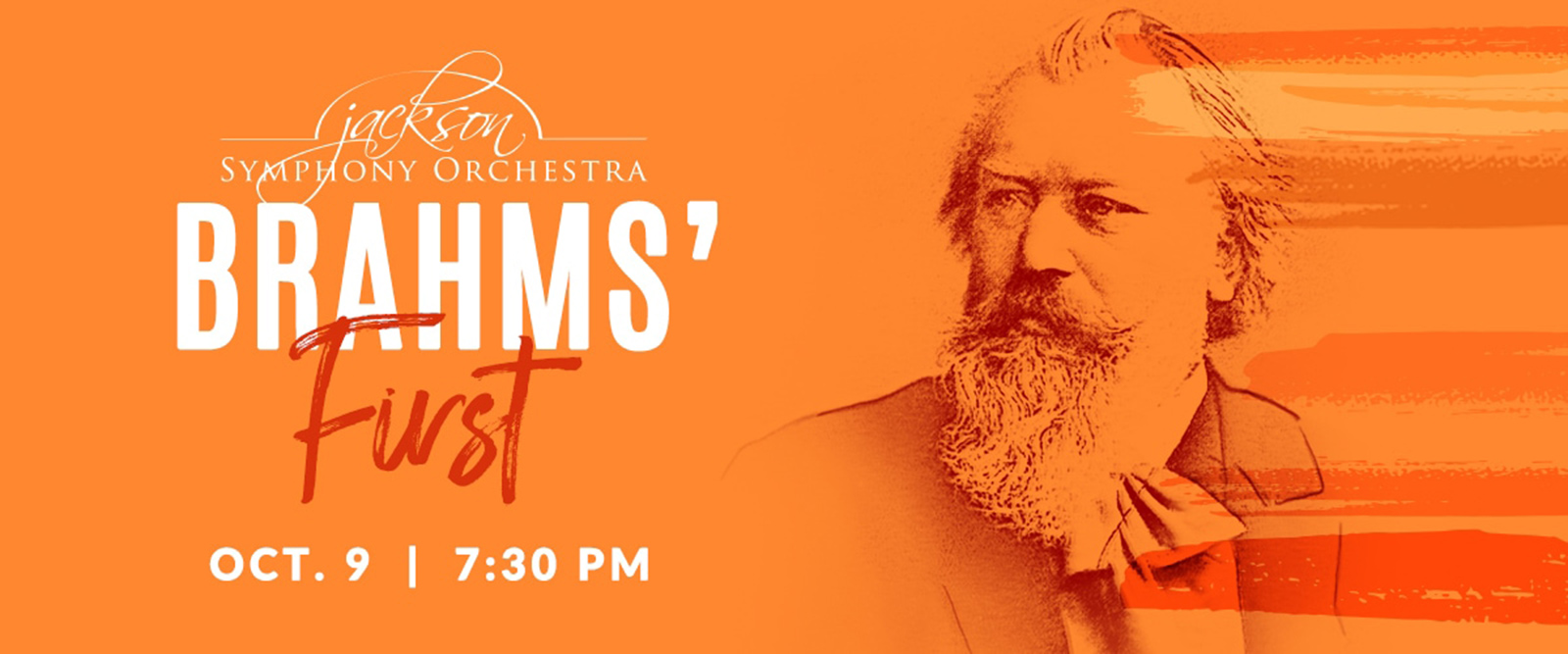 BRAHMS' FIRST SYMPHONY PROGRAM NOTES
By Composer in Residence Bruce Brown
The JSO is delighted to welcome back its audience for live performances in its 2021-22 season, Rejoice! Reuniting Through the Art of Music. Maestro Aubin has put together a diverse and rich series of concerts for the year, and the performances will celebrate the astonishing variety of artists who have contributed to classical music and continue to help it grow and develop. The offerings will include famous masterworks, three world premieres, and four fascinating hidden gems by less-familiar composers.
Tonight's concert will feature a beautiful ballade by a brilliant composer, Samuel Coleridge-Taylor, who died tragically young and two of the most famous works in the repertoire. Brilliant young violinist Clara Saitkoulov, the winner of the prestigious Wieniawski Competition in New York, will join the orchestra to perform Tchaikovsky's towering violin concerto. Brahms' monumental first symphony will bring the evening to a thrilling conclusion.
Ballade, Op. 33 in A minor
British composer and conductor Samuel Coleridge-Taylor (1875-1912) overcame prejudice against his mixed-race heritage to become enormously popular during his lifetime. Coleridge-Taylor made three tours of the United States, and in 1904, on his first visit, President Theodore Roosevelt received him at the White House. His English mother named him after the poet Samuel Taylor Coleridge and called him "Coleridge." His father studied medicine in London and went on to become the coroner for the British Empire in the West African province of Senegambia in Senegal.
Coleridge-Taylor's most famous work is a set of three cantatas based on Longfellow's epic poem Song of Hiawatha. This trilogy became so popular that it was performed for two weeks each year in London from 1928 through the beginning of World War II, and it is still staged frequently. The only other works to receive similar treatment were Handel's Messiah and Mendelssohn's Elijah. Sadly, Coleridge-Taylor had sold the rights to the music for fifteen guineas, and he struggled financially all his life.
When Edward Elgar was asked to compose a work for the Three Choirs Festival, a famous annual event in England, he replied:
Coleridge-Taylor accepted the commission gladly and conducted the premiere of his Ballade in A Minor on September 12, 1898. The performance was a very promising, early milestone for the gifted 22-year-old composer who, tragically, died of pneumonia less than fifteen years later. As one writer has said, the Ballade is a "work full of wonderful high-spirits, passion and warmth. Above all it's a harbinger of what might come, given time and opportunity."
Violin Concerto in D major, Op. 35
When Pyotr Ilyich Tchaikovsky (1840-1893) died, shortly after the premiere of his passionate Pathetique Symphony, there was a tremendous outpouring of grief in Russia. Thousands of people stood in stunned silence as a gilded white carriage decorated with white damask bore his coffin through the streets. Three more carriages were required to carry all the wreaths that had been sent.
On July 18th, 1877, Tchaikovsky (1840-1893) married Antonini Ivanova Milioukov. This seemingly happy event proved to be a disaster, and within days Tchaikovsky was desperate to escape. After a feeble suicide attempt, he realized he had to divorce her. In the aftermath of this tragic event, Tchaikovsky poured himself into his work, and in the late fall and winter he finished his fourth symphony and the opera Eugene Onegin. Then he and his brother Anatoly embarked on a series of travels, and in March of 1878, they settled in Clarens on Lake Geneva in Switzerland. Tchaikovsky had already begun work on a piano sonata, but when he heard the colorful Symphonie espagnole, by French composer Edouard Lalo, he got excited about the idea of creating a work for solo violin and orchestra.
Tchaikovsky started writing his new violin concerto on March 17th and worked at a feverish pace, finishing a full sketch of the piece in only eleven days. The slow movement was written in a single day after he decided to abandon an earlier draft, and the concerto was finished by the end of April. Tchaikovsky excitedly sent the music to his friend Leopold Auer of the St. Petersburg Conservatory, and he was shocked when Auer returned the score saying it was unplayable. After three frustrating years Adolf Brodsky, a former colleague from the Moscow Conservatory, agreed to play the concerto and convinced Hans Richter to perform it with the Vienna Philharmonic on December 4th, 1881.
The performance was an ill-prepared disaster, prompting the critic Eduard Hanslick to describe the music as a "stink to the ears." Even Brodsky complained that the composer had "crammed too many ideas into it," but he doggedly championed the piece and performed it throughout Europe.  The concerto steadily gained popularity, and it soon came to be regarded as one of the most glorious in the repertoire. As Abraham Veinus later wrote: "It makes its appeal not only on the basis of its ingratiating melodies, but quite frankly on the enjoyment of watching a superlative violinist at work."
Symphony No. 1 in C minor, Op. 68
Few composers have contributed as much great music to the symphonic repertoire as Johannes Brahms (1833-1897). Brahms' inspired output includes a monumental violin concerto, two wonderful piano concertos, four stunning symphonies, several colorful overtures, and many other pieces, all of which reflect his own, unique style. Opinions on Brahms have always varied. Tchaikovsky once wrote in his diary, "I have played over the music of that scoundrel Brahms. What a giftless bastard!" George Bernard Shaw once described Brahms' famous German Requiem by saying "His requiem is patiently borne only by the corpse." But Robert Schumann captured the verdict of history much better when he wrote:
I felt . . . that one day there must suddenly emerge the one who would be chosen to express the most exalted spirit of the times in an ideal manner, one who would not bring us mastery in gradual developmental stages but who, like Minerva, would spring fully armed from the head of Jove. And he has arrived – a youth at whose cradle the graces and heroes of old stood guard. His name is Johannes Brahms.
Brahms was always a very slow and careful composer, but the gestation of his first symphony is one of the longest in music. He spent at least fourteen years completing it, and sketches have been found from as early as 1854. Brahms himself said the symphony took 21 years, from 1855 to 1876. During that time, he even started writing another symphony, but he altered the music dramatically and made it into a piano concerto, his first. He also struggled with tremendous pressure from the expectation that he would continue "Beethoven's inheritance." Beethoven had died six years before Brahms was born, but his towering presence, and the challenge of writing anything comparable to his great works, was felt by almost every composer who came after him. "You can't have any idea what it's like always to hear such a giant marching behind you," Brahms once said.
Brahms probably had the symphony almost finished in 1868 when he sent a birthday card to his lifelong friend, Clara Schumann. His message included a sketch of the famous Alphorn tune in the symphony's finale and the words: "Thus blew the shepherd's horn today!" But Brahms delayed the first performance for eight more years, and his friend Felix Otto Dessoff conducted it on November 4, 1876, in Karlsruhe. He didn't send the score to his friend and publisher, Fritz Simrock, until the symphony had been performed in three cities, and Brahms had wanted to have it performed in at least three more before releasing it.
Many commentators cited a strong resemblance between the main theme of Brahms' last movement and finale of Beethoven's ninth and Brahms also quotes the rhythm of the "fate" motto from opening of Beethoven's fifth. Brahms angrily dismissed any accusation of plagiarism, insisting he had written the passages as an homage to Beethoven. When the similarity was mentioned, he would say: "any ass can see that." The brilliant British writer Donald Tovey insists Brahms's theme can only be compared with Beethoven's, "because it is the solitary one among hundreds of the same type that is great enough to suggest the resemblance."