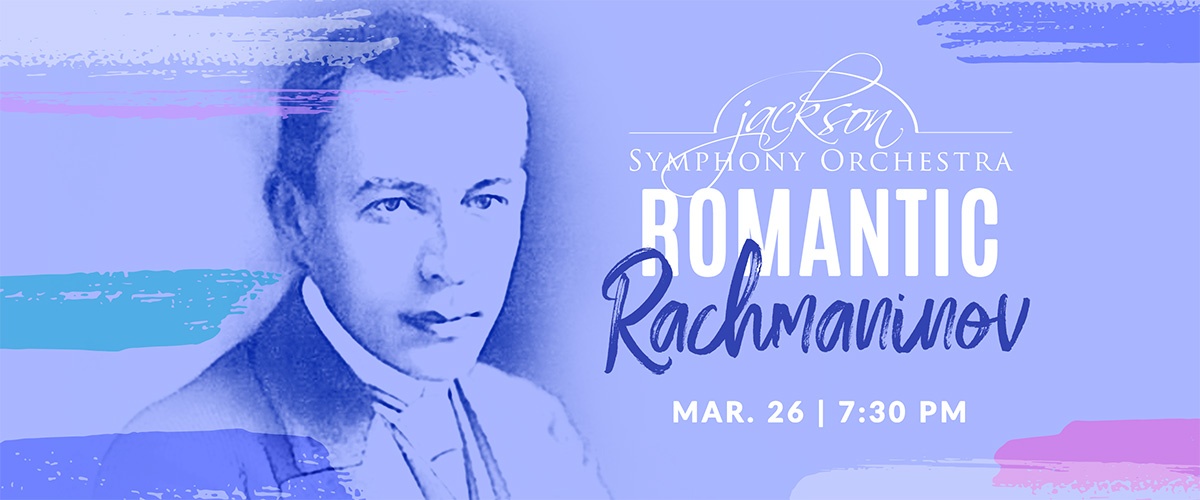 ROMANTIC RACHMANINOFF PROGRAM NOTES
By Composer in Residence Bruce Brown
Britannica.com defines "Musical Romanticism" as music "marked by emphasis on originality and individuality, personal emotional expression, and freedom and experimentation of form." Tonight's concert, "Romantic Rachmaninov," continues the JSO's season, Rejoice: Reuniting Through the Joy of Music, with works that celebrate that spirit.
The first piece on the concert is a boisterous overture by Ethel Smyth from an opera that made a great splash in its day and then was, sadly, neglected over time. The program will continue with a hugely popular symphony by Jean Sibelius, a gifted composer whose music is deeply rooted in the folklore and culture of his homeland, Finland. Pianist Inon Barnatan, a rising international star, will join the orchestra to perform a brilliant concerto that marked Rachmaninov's emergence from crippling depression and helped pave the way for the meteoric rise of his career.
Boatswain's Mate Overture
In 1922, Ethel Smyth (1858-1944) became the first female composer to be named Dame Commander of the Order of the British Empire (DBE). That honor and her honorary doctorates from Durham University and Oxford University were very welcome recognition in the face of critics who were only too ready to downplay her accomplishments. Later, on May 28, 1928, the BBC broadcast two concerts of Smyth's music to celebrate her "musical jubilee." More accolades followed late in her life, including festival marking her 75th birthday with the Queen in attendance. Sadly, Smyth was deaf by that time and couldn't hear her own music or the cheers of the audience.
Smyth was the fourth of eight children and always said her birthday was April 23rd, the date of William Shakespeare's death, even though she was actually born on the 22nd. Her Father, a major general in the Royal Artillery, adamantly opposed her plans for a career in music, but he relented, and she studied in Leipzig, where she met Dvořák, Grieg, Tchaikovsky, Clara Schumann and Brahms. When she returned to England, she struck up a friendship with Arthur Sullivan (of Gilbert and Sullivan) who respected her greatly and encouraged her work in the final years of his life.
Smyth's extensive catalog of works includes art songs, works for piano, chamber music, orchestral works, choral works and operas. One critic described her opera The Wreckers, as the "most important English opera composed during the period between Purcell and Britten." Her opera Der Wald (1901) was the only opera by a female composer produced by New York's Metropolitan Opera for more than a century.
Smyth joined the Women's Social and Political Union (WPSU) in 1910 and gave up music for two years to fight for women's suffrage. She made many appearances with the charismatic leader of the WSPU, Emmeline Pankhurst, and her song The March of the Women (1911) became the official anthem of the suffragette movement in the United Kingdom.
The Illustrated London News described Smyth's fourth opera, The Boatswain's Mate (pronounced "Bo's'n's Mate")" as "one of the merriest, most tuneful, and most delightful comic operas ever put on the stage." Smyth composed it in 1913–14 in Helwan, Egypt, and also wrote the libretto, which she based on a story of the same name by W. W. Jacobs. She conducted the premiere performance with the Beecham Opera Company at the Shaftsbury Theatre in London on January 28, 1916.
The Boatswain's Mate has been called a "comedic romp with a feminist message," but it is also a thought-provoking work. It asks whether the central character would be happier getting remarried or living independently, and many consider it Smyth's most thoroughly feminist creation. The playful operatic score includes nursery rhymes, folk-melodies, and even a quotation from Beethoven's 5th Symphony. The March of the Women she wrote for the suffrage movement is at the core of the rollicking overture.
Symphony No. 5 in E-flat major
Finnish composer Jean Sibelius (1865–1957) was a highly individualistic and unabashed Romantic who wrote in the rich, expressive language of the 19th century, even though he died after the middle of the 20th century. He also preferred to write music that represented the natural world. "I love the mysterious sounds of the fields and forests, water and mountains," he once wrote, "It pleases me greatly to be called a poet of nature, for nature has truly been the book of books for me.
At the end of the 19th century, Finland was under the control of Tsarist Russia. Sibelius was an ardent patriot and was very sympathetic with the resistance to their domination, but he was careful not to get involved directly in political activities. He often denied that his music was intended to be programmatic or descriptive, but the Finnish people found his music deeply inspiring, and his works were often censored by the authorities. In 1899, he wrote four pieces for a special event, including one called "Finland Awakes." The audience response was so powerful that the Russians quickly banned it, but its popularity only grew. It was soon renamed Finlandia and became famous around the world.
Sibelius was so beloved in Finland that he was honored with his own postage stamp and a special government pension. In 1915, the Finnish government declared his fiftieth birthday a national holiday and asked him to write a new symphony for the occasion. He responded with his fifth symphony, and while he was composing it, he wrote in his diary: "It is as if God Almighty had thrown down pieces of a mosaic on heaven's floor and asked me to find out what was the original pattern."
He conducted the first performance with the Helsinki Philharmonic on his birthday, December 8th, and revised the work in 1916 and again in 1919. "I wished to give my symphony another – more human – form," he said, "More down-to-earth, more vivid." He conducted the final version with the same orchestra on November 24, 1919.
Sibelius originally wrote the first movement as two separate ones, but he connected them together to create a single unit with a unique form that defies simple explanation. The expansive third movement includes a majestic theme Sibelius said was inspired by one of the great experiences of his life: the glorious sight of a group of sixteen swans flying overhead "like a gleaming silver ribbon." Sir Donald Tovey pictured something a bit different and said the theme reminded him of Thor swinging his hammer.
Piano Concerto #2 in C Minor
Sergei Rachmaninov (1873-1943) once wrote: "I try to make music speak simply and directly that which is in my heart at the time I am composing. If there is love there, or bitterness, or sadness, or religion, these moods become part of my music…" Rachmaninov wrote three symphonies, many other orchestral works, several pieces of chamber music and many songs for voice and piano. His large body of choral music includes a famous, All-Night Vigil (or Vespers), an a cappella work that was so beautiful he asked for its fifth movement to be sung at his funeral.
He started playing the piano at the age of four and went on to become one of the finest pianists of all time. He had very large hands and performed the most difficult music, including his own stunning compositions, with astonishing precision and rhythmic drive. After the Russian Revolution, he left Russia and settled in New York City. In 1942, with his health failing, he moved to Beverly Hills. He became an American citizen just a month before his death from advanced melanoma.
Rachmaninov suffered deep depression and crippling writer's block after the colossal failure of his first symphony in 1897. Years later he wrote: "…something within me snapped. All my self confidence broke down. A paralyzing apathy possessed me…" His deep funk lasted for at least three years, and he feared his career had already ended. He said he felt "like the man who had suffered a stroke and for a long time had lost the use of his head and hands." The London Philharmonic had commissioned him to write a new piano concerto, but he was utterly unable to make any progress on it.
Finally, in desperation, he sought the help of Dr. Nikolay Dahl, a specialist in the new science of autosuggestion. Dahl told him again and again: "You will begin to write your new concerto … You will work with great facility … the concerto will be of excellent quality." Rachmaninov later said in gratitude: "this cure helped me. New musical ideas began to stir within me—far more than I needed for my concerto."
The resulting work, his second piano concerto – based on material he sketched in the early 1890s – became one of his greatest triumphs. He finished the second and third movements first, in the fall of 1900, and he performed them at a charity concert in Moscow with his teacher and first cousin Alexander Siloti conducting. He finished the first movement on May 4th, 1901. Rachmaninov was twenty-eight years old when he played the first full performance on October 14, 1901, at Moscow Philharmonic Society, with the same conductor. He acknowledged his debt to the doctor with a simple dedication at the top of the first page: "À Monsieur N. Dahl."