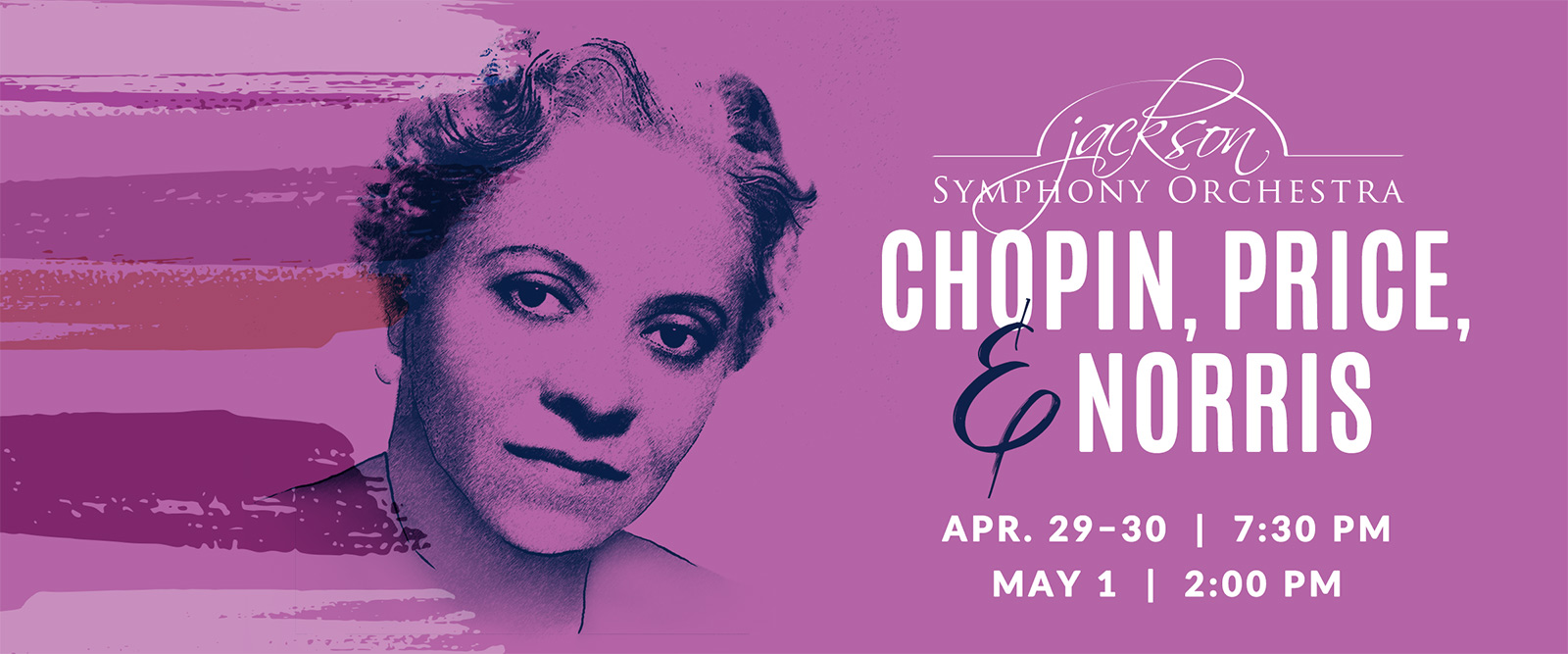 CHOPIN, PRICE, & NORRIS PROGRAM NOTES
By Composer in Residence Bruce Brown
The JSO's 2021-22 season, Rejoice: Reuniting Through the Power of Music, will end on a very high note with a program called "Chopin, Price and Norris." The theme of tonight's concert could be "Up and Coming." Young Marcus Norris – one of Jackson's own – is doing great things in his composition studies in Los Angeles, and he is preparing a new work that will be the JSO's third world premiere of the year.
The orchestra is proud to welcome 21-year-old pianist Elliot Wuu to Jackson to perform Chopin's "first" piano concerto (more on that later!). Wuu was named a Gilmore Young Artist in 2018. The Gilmore Piano Festival, which brings pianists from all over the world to Kalamazoo, Michigan, presents the young artist award every two years:
… to single out the most promising of the new generation of U.S.-based pianists, age 22 and younger. Nominations are made by music professionals from around the world, and an anonymous selection committee evaluates the nominees over a period of time. Candidates for the Award are unaware that they are under consideration.
The evening will conclude with a brilliant and colorful symphony by Florence Price, a composer whose star is on the rise after decades of unfortunate neglect.
TBD
UCLA was so impressed with Marcus Norris, a 2009 Jackson High graduate, that they awarded him a full scholarship and the prestigious Eugene Cota-Robles Fellowship to support his doctoral studies in music composition. Norris gives credit to many Jackson people who helped him get his start including his Uncles Nate and Dre Norris, Jazz artist Benny Poole, and Mark Mathias, a familiar face in the JSO's string bass section and a beloved former teacher in Jackson's Public Schools.
Norris's works have been performed in the United States, in Russia and in Cuba, and they have been performed or read by many groups including the Russian String Orchestra, the Chicago Composer's Orchestra, the Las Vegas Young Artists Orchestra and the Afro-Cuban cello quartet Ache-lo. Chicago's N'digo Magazine has called Norris a "new musical talent in our midst." Billboard Magazine named Winter's Diary 2, a project Norris produced, as one of the top ten R&B Albums of 2014. He has also served as a studio instructor, producer and engineer for Donda's House, a nonprofit program serving aspiring young musicians on Chicago's south side.
In 2017, Norris won the Philip Slates Memorial Competition sponsored by the Southeastern Composers League. In 2020, he founded the South Side Symphony, which he describes as "the only orchestra that would perform Back That Thang Up on the same concert as Beethoven." This past July, the Chicago Philharmonic Society chose Norris and two other composers for its first-ever composer in residence program.
The JSO commissioned Norris's GLORY, a new violin concerto, in 2019. The success of that memorable performance led to the inclusion of Norris's moving piece, My Idols are Dead, on the JSO's virtual concert Made in Michigan (which was released this past year and is still available on YouTube). Norris's new work for the JSO will "celebrate and commemorate the post-pandemic future."
Piano Concerto No. 1, Op. 11, E minor
Fryderyk Chopin (1810-1849) wrote his Concerto No. 1 in E minor in 1830, when he was only twenty years old. He had already written another concerto. That one made him a national hero in Poland, but the later one earned its title by being published first. His performance of his new concerto in the National Theatre in Warsaw, on October 11th, 1830, was met with "thunderous applause."
Then he left Poland, went to Paris, changed his name to Frédéric, and proceeded to take the place by storm, despite the fact he hated playing to large crowds and didn't perform publicly for almost two years. When Chopin did give a concert in Paris, Liszt and Mendelssohn both came, and Robert Schumann summed up the reaction with two famous lines: "Hats off, gentlemen – a genius!" and "Chopin introduces the spirit of Beethoven into the concert hall."
Chopin was an astonishing pianist, and his music requires superb technique, but also great depths of nuance and expression. As one admiring observer wrote: "[His] fingers sing and bring tears to your eyes, making anyone who is sensitive tremble with emotion." He is the only major composer who never wrote a piece that didn't include the piano, and his music changed the art of piano playing dramatically. He invented the instrumental ballade and transformed the nature of the piano sonata, mazurka, waltz, nocturne, polonaise, étude, impromptu and prélude.
Chopin started making up music – improvising – as soon as he started learning to play, and improvisation was always a critical part of his approach to composing. As one eyewitness, Karl Flitsch, reported:
The other day I heard Chopin improvise at George Sand's house … he plays without hesitation as if it could not be otherwise. But when it comes to writing it down and recapturing the original thought in all its details, he spends days of nervous strain and almost terrible despair.
When Chopin performed his Concerto #1 in Paris, François-Joseph Fétis wrote: "There is spirit in these melodies, there is fantasy in these passages, and everywhere there is originality." Some critics have felt the supporting music in the orchestra failed to live up to the grandeur of the solo part, but many others have insisted the accompaniment was carefully designed to not overshadow the piano music. In the words of Phillip Huscher, writing for the Chicago Symphony:
[The] music comes to life with the entrance of the piano. Suddenly, the same material that sounded unexceptional and a tad dutiful when played by the orchestra seems distinctive, poetic, and endlessly inventive… The orchestra is master of ceremonies, accompanist, and indispensable partner – introducing material, lending color and support – but the piano commands center stage.
Symphony #1 in E Minor
In 2009, a large pile of compositions and papers of Florence Price (1887-1953) were found in a jumbled heap on the floor of a dilapidated house in St. Anne, Illinois. Fortunately, the home's new owners did some investigating and donated the materials to Price's archive at the University of Arkansas. Alex Ross lamented this near disaster in The New Yorker: "…not only did Price fail to enter the canon; a large quantity of her music came perilously close to obliteration. That run-down house in St. Anne is a potent symbol of how a country can forget its cultural history."
Price gave her first piano performance at the age of four and published her first composition when she was eleven. She graduated as the valedictorian of her class at the age of fourteen and graduated from the New England Conservatory in 1906 with honors, an artist diploma in organ, and a teaching certificate. She was a fine pianist, organist and music teacher, and the first African-American woman to be recognized as a symphonic composer. She wrote more than 300 pieces including four symphonies and four concertos. Marian Anderson sang her settings of spirituals often and used one of them, "My Soul's Anchored in the Lord," as the finale for her famous 1939 concert at the Lincoln Memorial before 75,000 people and a national radio audience.
Price composed her Symphony No. 1 in E Minor between January 1931 and early 1932. Her music seamlessly combines African-American influences in melody, rhythm and syncopation with traditional European styles, and she also drew inspiration for her first symphony from Dvořák's famous New World Symphony. Her new work quickly won the first prize in a special contest sponsored by Wanamaker's Department Store. The award brought Price national recognition, but no performances of her work. Then, in 1933, Maude Roberts George, who later became the president of the National Association of Negro Musicians, paid $250 (more than $5000 today) for Price's symphony to be included in a program by the Chicago Symphony Orchestra called "The Negro in Music."
Frederick Stock conducted the world premiere of Price's symphony on June 15, 1933, and Price became the first African-American woman to have her music played by a major U.S. orchestra. Critics called Price's new piece "a symbol of uplift and community" and "a faultless work, a work that speaks its own message with restraint and yet with passion . . . worthy of a place in the regular symphonic repertory."
Eleonora Beck, writing for the Philadelphia Orchestra, says the "long contrasting middle section [of her first movement] captures tranquility, as if Price is musically painting the great American pastime: sitting on the porch." The slow movement begins with a beautiful hymn, written by Price, in the brass. The third movement, a Juba Dance, includes African drums and a wind whistle. Price wanted all her symphonies to include a Juba dance, an echo of an energetic style that included stomping, slapping, and patting the arms, legs, chest, and cheeks. Many believe the Juba dance is the precursor to tap dancing. The finale propels the music energetically toward its triumphant conclusion.