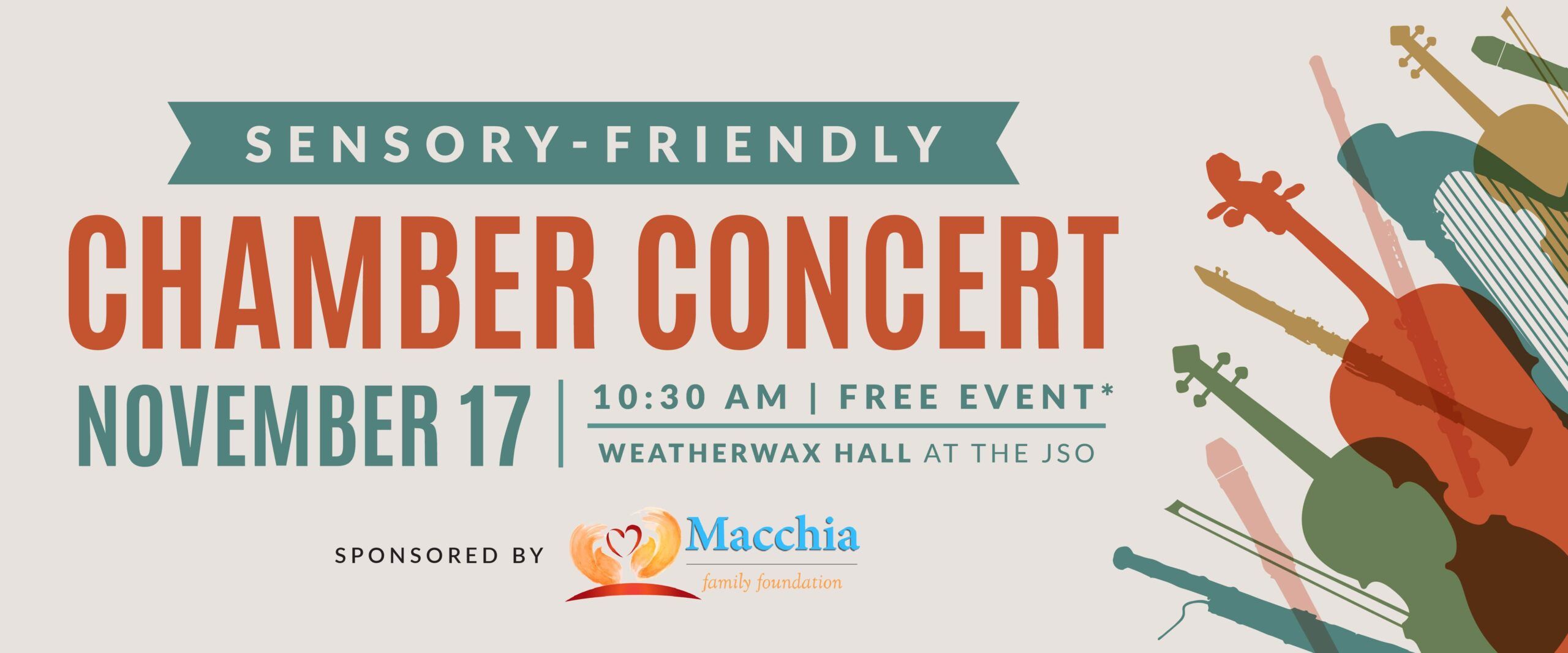 SENSORY FRIENDLY CHAMBER CONCERT
NOVEMBER 17, 2023
10:30 AM
WEATHERWAX HALL
FREE ADMISSION
*The general public must RSVP – if you are attending with your school, please talk to your teacher or principal.
This sensory-friendly concert experience has been designed for those with sensory sensitivities, including neurodiverse audiences and those with communication, movement, and learning needs.
The Jackson Symphony Orchestra is performing our second free Sensory-Friendly Chamber Concert experience in our concert hall located in downtown Jackson, MI. This concert features the softer instruments from our orchestra performing as a string quartet. These instruments will share their unique sounds with our audience in a lower-lighting setting. Attendees will be free to sit or roam as the music is performed.
Accommodations available at this concert include but are not limited to abundant handicap-accessible seating, quiet rooms, medium quiet rooms, standing room, additional viewing areas, and items like scarves, fidgets, ear plugs, and headphones. Please feel free to call our box office at (517) 782-3221 or email us at info@jacksonsymphony.org to let us know if you have any specific needs or accommodations.
Jean-Joseph Mouret
Rondeau
Johann Sebastian Bach
Brandenburg Concerto No.2, Movement I. Allegro Moderato
Antonio Vivaldi
"Winter"
George Frideric Handel
Hornpipe from Water Music
Joseph Haydn
Serenade, from String Quartet Opus 3 No.5
Gabriel Fauré
Sicilienne
Wolfgang Mozart
String Quartet No.4 in C Major
Giacomo Puccini
Crisantemi
Pyotr Ilyich Tchaikovsky
Nutcracker Suite Mashup
Giacomo Puccini
O Mio Babbino Caro
Michael Mclean
Czardas
Frankie Vallie
Can't Take My Eyes Off You
Harold Arlen
Somewhere Over the Rainbow
Johann Sebastian Bach
Brandenburg Concerto No.3 Movement II. Allegro
Joseph Deller received his Bachelor of Arts Degree in Violin Performance from Hope College and has pursued a free lance music career in the Detroit Metropolitan area. He is currently a member of the Detroit Opera Orchestra, Flint Symphony Orchestra, and Dearborn Symphony Orchestra. He has also appeared with several other area orchestras including the Jackson Symphony, International Symphony, Oakland Symphony, and others. He maintains a private studio of violin, viola, and piano students at his home in Dearborn and has recently begun group violin instruction through the Harbor Homeschool group in Dearborn. In addition, Joseph serves as music director and conductor of the Dearborn Youth Symphony.
Carolyn Lukancic began studying violin at the age of eight. She received a Bachelor of Music degree in violin performance from the Blair School of Music, Vanderbilt University in 1995, where she studied privately with Christian Teal of the Blair String Quartet and chamber music with John Kochanowski of the Concord String Quartet. She received a Master of Music degree in violin performance from the University of Michigan in 1997. After graduating, Carolyn enjoyed a freelance career in Vermont as a violin/viola teacher and performer with the Vermont Symphony, Burlington Chamber Orchestra, Hanover Chamber Orchestra and the Vermont Contemporary Music Ensemble. She currently resides in Ann Arbor, MI as a private violin/viola instructor performing with the Jackson Symphony Orchestra, Greater Lansing Symphony Orchestra, Ann Arbor Symphony Orchestra, and Adrian Symphony.
Violist Clyde McKaney, a Jackson native, joined the Jackson Symphony Orchestra (JSO) in 1981 and has taught at the JSO's Ronald and Marvel Jones Community Music School (CMS) for over 30 years. He now lives in Jackson, where he continues performing with the JSO and teaching violin and viola at the CMS.
Mr. Peshlakai was born and educated in Michigan. He received his Bachelor of Music from Michigan State University and his Master of Music from the University of Michigan. David Peshlakai was Principal Cellist with the Kalamazoo Symphony Orchestra from 2004 to 2017, where he held the Diether Haenicke Principal Cello Chair. Mr. Peshlakai is also in great demand as an extra cellist with several regional orchestras throughout Michigan, including performing as principal cellist with the Battle Creek, Flint, Jackson, and Lansing Symphonies. He has performed in many chamber recitals and festivals throughout Michigan and the Midwest. His coaches have included members of the Juilliard, Alban Berg, Concord, Vermeer, Emerson, Muir, and Kronos String Quartets. Mr. Peshlakai has been teaching cello at Hillsdale College since 1992. In 2010, he was invited to teach at Kalamazoo College as well. He previously taught at Albion and Alma Colleges and Grand Valley State University.