SENSORY FRIENDLY CHAMBER CONCERT
JUNE 3, 2023
6:00 PM
DOORS OPEN AT 5:30 PM
WEATHERWAX HALL
FREE ADMISSION
This sensory-friendly concert experience has been designed for those with sensory sensitivities, including neurodiverse audiences, and those with communication, movement, and learning needs.
The Jackson Symphony Orchestra is launching a new free concert experience in our concert hall located in downtown Jackson, MI. Upon entering the JSO, attendees will be greeted with the soft sounds of the harp prior to the concert. This concert features the softer instruments from our orchestra performing as a small wind instrument ensemble and a string instrument quartet. These instrument groups will alternate throughout the performance, sharing their unique sounds with our audience in a lower-lighting setting. Attendees will be free to sit or roam as the music is performed.
Accommodations available at this concert will include but are not limited to abundant handicap-accessible seating, quiet rooms, medium quiet rooms, standing room, and additional viewing areas, as well as items like scarves, fidgets, ear plugs, and headphones. Feel free to call our box office at (517) 782-3221 or email us at info@jacksonsymphony.org to communicate any specific needs or accommodations.
Five Miniatures, William Grant Still, 18"

Danny Boy, Grainger, arr. 3"

Suite Sounds of Salem, Morse, 9" (4 short movements)

Summerland, Still, 3"

Klezmer Wedding, Mike Curtis, 4"

Doggie Variations, Morse, 2"
Tasha Warren, two-time Grammy nominated recording artist, teacher and international performer, has premiered over one hundred solo clarinet and chamber works throughout the US, Europe, Israel, China, South Korea, and India. She has recorded with Innova, Alba, SCI Records, Crystal, Centaur Records, and Bright Shiny Things.
William Wheeler has been Principal Bassoonist of the Kalamazoo Symphony Orchestra since 1982. He has appeared as soloist with the Orchestra in the Haydn and Mozart Sinfonias Concertante, the Mozart Bassoon Concerto, and Michael Daugherty's Dead Elvis. Mr. Wheeler has presented solo recitals sponsored by the Orchestra and by Kalamazoo College, where he was instructor of bassoon.
Stephen Foster received his Bachelor Degree in Horn Performance and Music Theory from Western Michigan University in 1993 and his Master of Music in Horn Performance from Rice University in 1995. He is in his 28th season as 2nd Horn in the Lansing Symphony and has been a member of the Jackson Symphony since 1998.
Tess Miller, DMA, CMP, CPC enjoys a portfolio career as a freelance performer, flute instructor, therapeutic musician, core energy coach, public speaker, and author. Dr. Miller received a Doctorate from Michigan State University. Her dissertation covered research on music performance anxiety and how to use journal writing to develop confident performance skills.
Gretchen Morse received her Doctorate in Oboe Performance from Michigan State University in 1995, while studying with Daniel Stolper. This will be her 29th season playing Oboe and English Horn with the Lansing Symphony, and she has been a contracted member with many other orchestras throughout Michigan and New York State, as well as The American Wind Symphony Orchestra.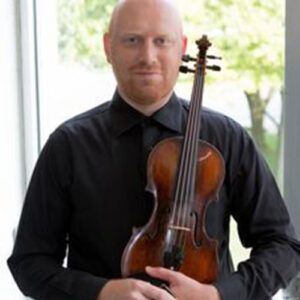 Joseph Deller received his Bachelor of Arts Degree in Violin Performance from Hope College and has pursued a free lance music career in the Detroit Metropolitan area. He is currently a member of the Detroit Opera Orchestra, Flint Symphony Orchestra, and Dearborn Symphony Orchestra. He has also appeared with several other area orchestras including the Jackson Symphony, International Symphony, Oakland Symphony, and others. He maintains a private studio of violin, viola, and piano students at his home in Dearborn and has recently begun group violin instruction through the Harbor Homeschool group in Dearborn. In addition, Joseph serves as music director and conductor of the Dearborn Youth Symphony.
Zack Rubin is an active freelance violinist and violist who currently performs in the Jackson Symphony, Adrian Symphony, and Michigan Philharmonic. He has also performed with the Oakland Symphony, Arbor Opera, Dearborn Symphony, Aiken (SC) Symphony, UM Life Sciences Orchestra, and other small ensembles in Southeast Michigan. In addition to his musical pursuits, Zack is a Product Development Engineer for Vehicle Sound Quality with Ford Motor Company and earned Mechanical Engineering degrees from Brown University and the University of Wisconsin-Madison.