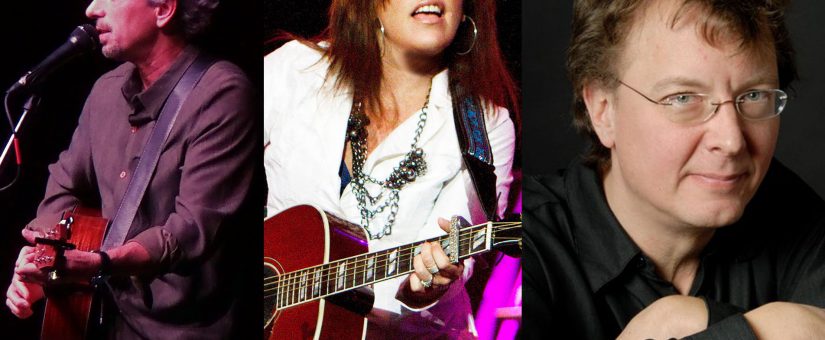 Michigan Songwriter John D. Lamb Brings Songwriter Showcase Back to The Wax In Downtown Jackson With Jill Jack and Jim Bizer on Saturday, December 10th.
On Saturday, December 10th, John D. Lamb, Jill Jack and Jim Bizer will play a concert at Weatherwax Hall (The Wax), the Jackson Symphony Orchestra's Performing Arts Center located at 215 W. Michigan Ave. in downtown Jackson as part of the Jackson Symphony's Affinity Series of Concerts. Tickets are $12 in advance or $15 at the door and are available at www.jacksonsymphony.org, or by calling 517-782-3221.
John D. Lamb is well known in the Michigan songwriting community not only as a great writer, but also as the host of Lamb's Retreat for Songwriters, held annually in Harbor Springs and attracting artists from around the country. John has performed at Weatherwax Hall both as a solo artist and also as host of his popular "Songwriter Showcase." December's concert will be a Songwriter Showcase featuring metro-Detroit based artists Jill Jack and Jim Bizer. Jill Jack has performed many times in Jackson with her band and has also shared the stage with artists like Bob Seger, Emmylou Harris and Loretta Lynn. Billboard Magazine has said of Jill, "She's got the stage presence, the voice, the ability to interpret songs passionately … there's a lot of soul in what she does." Jim Bizer has been part of the Detroit music scene since he was 14 years old. He's got a comfortable, deep groove and a restless imagination. His songs are a unique blend of humor, catchy melodies, and his own personal view of the essential craziness of being human – served up with some monster guitar playing and vocals.
The concert will feature both original music as well as traditional Holiday singalong favorites and is generously sponsored by Flagstar Bank.
Doors for this performance open at 7:30 PM and music will begin at 8:00 PM. Refreshments, including a cash bar, will be available.