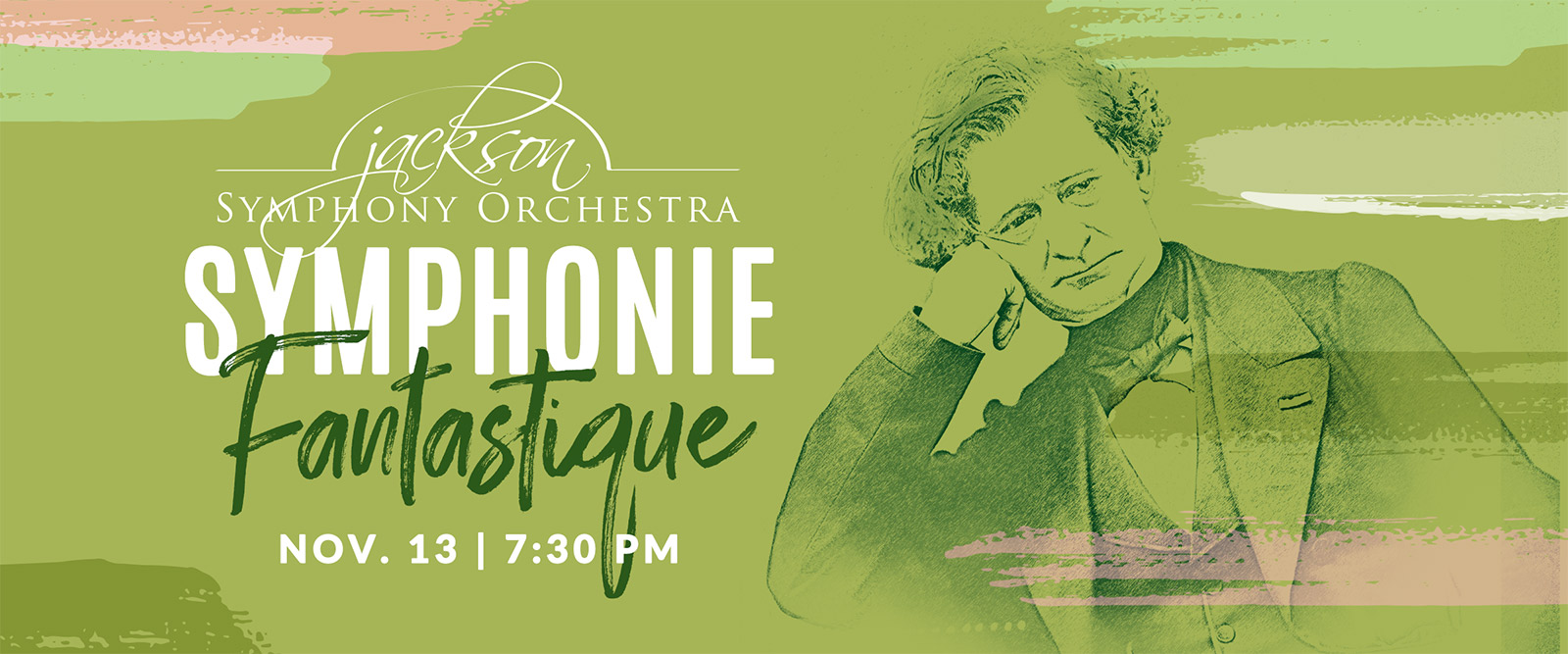 SYMPHONIE FANTASTIQUE PROGRAM NOTES
By Composer in Residence Bruce Brown
The second concert in the JSO's 2021/22 season, Rejoice: Reuniting Through the Joy of Music, will feature three unique and colorful works, two from France and one from an up and coming Michigan composer. The evening will begin with a brand-new work by Audrey Kelley celebrating the 100th anniversary of the nineteenth amendment, which guaranteed a woman's right to vote. The shimmering colors and rich tone of the harp are not often heard in a solo role, and the JSO's principal harpist, Chen-Yu Huang, will take center stage to present a special treat, a beautiful concerto for harp written by the French composer Fernande Decruck. The program will conclude with one of the most remarkable pieces in the orchestral repertoire, Hector Berlioz's landmark Symphonie fantastique.
Speakeasy: Four Scenes from the Roaring 20's
Audrey Kelley (b. 1982) says the new work she is writing for the JSO: "encompasses not only the 19th Amendment itself, but the cultural springboard it provided to catapult women out into society." This summer, Audrey has been juggling responsibilities to polish her new composition in Bellingham, Washington, where she serves as the festival coordinator and production manager for the Bellingham Festival of Music. Principal players from some of the most prestigious orchestras in the country come to the festival to play in concerts featuring world-famous soloists, and the festival sponsors outreach programs to bring year-round musical enrichment to school children in its region.
Audrey was born in the State of Washington and was drawn to learn several different instruments, including the clarinet, she says, "because, with its large mass of gleaming silver keys, it looked the most complicated of all the instruments." She went on to receive her bachelor's degree and master-of-music degree in composition from Western Washington University. When she is not busy in Bellingham she lives in Ann Arbor, where she composes, teaches private lessons for her studio of piano, clarinet and composition students, and manages guest artist contracting for the Bellingham Festival.
She has written many classical and electronic compositions that "highlight themes from mental health to women's suffrage." As a composer, she has collaborated with a wide range of artists including choreographers, film makers and visual artists to create projects ranging from textile installations and musical theater works to modern dance and animation. She has been commissioned to write works for organizations including the Bellingham Electronic Arts Festival (BEAF), the Sitka Music Festival and FireHouse Performing Arts.
Her new composition, Speakeasy: Four Scenes from the Roaring 20's, was scheduled for performance by the JSO in November of 2020, but obviously, that concert that was one of the many casualties of the COVID pandemic. The piece has four movements, and she describes the music as an "orchestral celebration of the music, philosophy, fashion and excess that flared into being in the 1920s and became embodied by the empowered Flapper." The work begins and ends, "with quotations from suffrage songs, my favorite of which is (problematically?!?) entitled, "She's Good Enough to be Your Baby's Mother, And She's Good Enough to Vote With You!" Now that's a title."
One interesting fact she learned, she says, is that: "The 1920s is the only era I'm aware of where women's fashion was directly influenced by music. Flapper culture, music and dance resulted in dresses having fringe and ornaments to flow, flap and sparkle as ladies danced."
Concerto for Harp and Orchestra
Fernande Decruck (1896-1954) was a remarkable woman who earned a spot in the Toulouse Conservatory when she was only eight years old and went on to win top prizes in music theory and piano. In 1918, she moved on to the Paris Conservatory, and during her time there, she won first-place honors in harmony, fugue and piano accompaniment. Maestro Matthew Aubin has a keen interest in Decruck, who became a gifted organist and wrote dozens of fine compositions, including more than forty works for the saxophone. Aubin is the leading scholar on Decruck and her music, and he has traveled to France several times to meet with her family, learn more about her life, and study her manuscripts. If tonight's concert whets your appetite, visit his excellent website, fernandedecruck.com, to learn more about her.
On April 8, 1937, Fernande gave birth to her third child, Alain, and nearly lost her life in the process. Fortunately, she recovered quickly, and six months later she accepted an appointment as a professor at the Toulouse Conservatory where she taught advanced music theory. The following years were very fruitful for her, and she was finally able to devote herself fully to composing. She wrote two concertos – the harp concerto we will hear tonight and one for clarinet – and many other works including another piece for harp and orchestra, Hymne à Apollon, a Suite française for string orchestra and solo wind instruments, Poème héroïque for solo trumpet, solo horn and orchestra, and a suite for harpsichord and orchestra called Les Trianons. She also created several works for voice and orchestra, many chamber works and numerous art songs.
Decruck wrote her Concerto pour harpe et orchestra, which has been described as "light-hearted, warm, and full of surprises," in 1944 in Voulx, a commune (township) that today has about 200 residents. Harpist Pierre Jamet, who soon became the Paris Conservatoire's professor of harp, premiered the work at the Concerts Colonne on March 31, 1946, under the direction of conductor Paul Paray.
Henri Malherbe, writing for Le Courier de Paris, described the event as a "most endearing performance of a concerto for harp and orchestra by Mrs. Fernande Decruck." He went on to ask: "Is the harp a concert instrument?" His answer speaks volumes: "I had doubt. It is a real challenge that the erudite musician has taken on and acquitted herself with happiness. Five movements in a clear, jagged and shimmering style, with a delicate and pungent poetry."
Symphonie fantastique, Op. 14
Biographer Hugh MacDonald has said of Hector Berlioz (1803-1869): "In many senses the Romantic movement found its fullest embodiment in him … His life presents the archetypal tragic struggle of new ideas for acceptance…" Berlioz was almost certainly the most important musician in France during his lifetime, despite the fact he never mastered a musical instrument. Reportedly, he could only play some chords on a guitar or a few notes on a flute. Despite that, he became a very famous composer and conductor, wrote powerful works that have been performed countless times and penned highly influential commentaries on the music of his time. He also wrote a hugely influential treatise on instrumentation that generations of composers pored over to learn the art of orchestration.
Berlioz wrote his Symphonie fantastique in 1830, and the first performance took place at the Paris Conservatoire on December 5th of that year. He made numerous revisions over the next fourteen years, and the work became hugely popular in Paris. He had written the music to express his love for Irish actress Harriet Smithson after seeing her perform the role of Ophelia in Shakespeare's Hamlet. Smithson refused to see Berlioz, despite his numerous love letters. Then she heard the symphony, two years after its premiere, and she was thrilled to be the object of such affection. They were married on October 3, 1833, but their marriage was short and bitter. Be careful what you wish for!
The Symphonie fantastique is full of innovations, especially for its time. It is a "cyclical" symphony in which one melody – the "Idee fixe," that is said to represent the artists obsessive devotion to his beloved – appears in all five movements. The music also includes many bold effects in instrumentation, including the use of four timpani to represent distant thunder (a tip of the hat to Beethoven's sixth symphony), very dramatic music in the low brass and the first appearance of a tuba in a symphony orchestra.
Berlioz subtitled the symphony an "Episode in the Life of an Artist" and said it portrayed a youth with a feverish imagination who is in deep despair over an unrequited love and has poisoned himself with opium. Berlioz wrote a detailed program to explain his vision of the music. The first movement introduces us to the "young vibrant musician, afflicted by the sickness of spirit … [who] sees for the first time a woman who unites all the charms of the ideal person his imagination was dreaming of, and falls desperately in love with her…"
In the second movement, the artist "finds himself in the most diverse situations in life… yet everywhere, whether in town or in the countryside, the beloved image keeps haunting him and throws his spirit into confusion." He "hears two shepherds in the distance" in the third movement and "broods on his loneliness, and hopes that soon he will no longer be on his own… But what if she betrayed him! …Distant sound of thunder… solitude… silence …"
In the fourth movement, "convinced that his love is unappreciated, the artist poisons himself with opium. The dose of narcotic, while too weak to cause his death, plunges him into a heavy sleep accompanied by the strangest of visions. He dreams that he has killed his beloved, that he is condemned, led to the scaffold and is witnessing his own execution…" He sees himself at a witches' sabbath in the finale, "in the midst of a hideous gathering of shades, sorcerers and monsters of every kind who have come together for his funeral …"