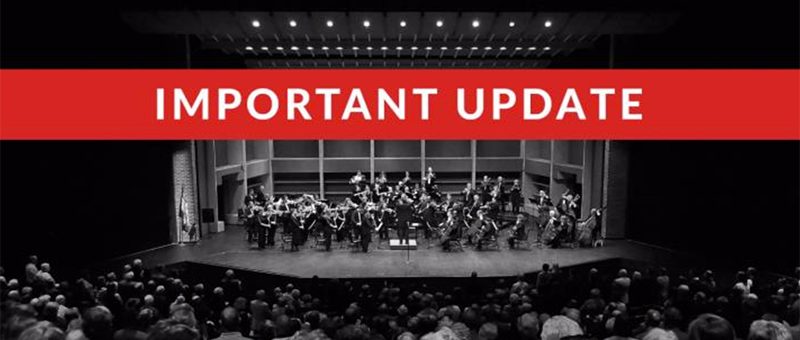 Dear Friends,
Following state and federal recommendations to help slow the spread of the COVID-19 virus, and, out of concern for the health and well-being of our musicians, staff and audience members, we have regretfully decided to cancel our Signature Series 5 concert, scheduled for Saturday, April 25.
Ticket holders for Signature Series #5 can:
Exchange tickets into any upcoming JSO Concert
Donate the cost of your ticket purchase, and receive a tax deduction
Contact the office for a refund
In accordance with Governor Whitmer's "Stay Home, Stay Safe" Executive Order, the JSO offices are now closed and the staff are working remotely. Because of this, we are unable to take your phone calls, but are happy to respond to your questions and requests via email; please send these emails to: ​info@jacksonsymphony.org​. Due to the overwhelming number of emails we have been receiving, we ask for your patience and promise we will respond as quickly as possible. We appreciate your understanding during these unprecedented times.
Also, we will be giving previews of our upcoming season over social media during the upcoming weeks and have other plans to help you make sure music remains a part of your lives, even while we are all "sheltering in place." Keep an eye on the JSO's Facebook and Instagram pages. And let us know how music is helping you navigate these difficult waters.
We hope that you are all staying safe and we look forward to reconnecting with you soon.
Sincerely,
Matthew Aubin
Music Director
Jackson Symphony Orchestra