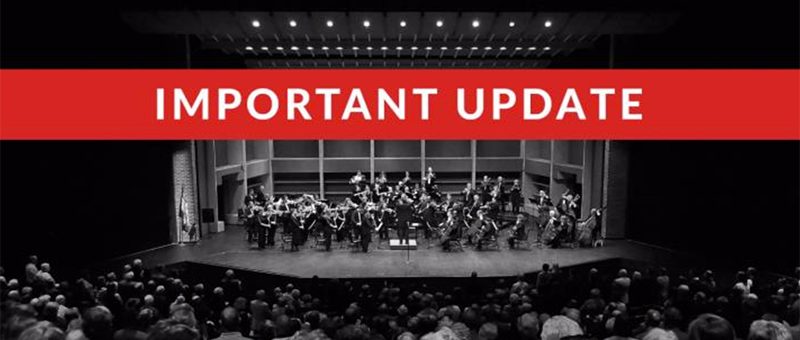 Dear Friends,
Last night Governor Whitmer issued recommendations to slow the spread of the COVID-19 virus, specifically recommending that individuals avoid gatherings of 100 or more people.
We too, are concerned for the health and well-being of our musicians, staff and audience members. It is our top priority.
So, in an abundance of caution and following the Governor's recommendations, we have decided to CANCEL our Irish Festival (Saturday, March 14, 2020) and POSTPONE our fourth Signature Series concert (The Maestro Returns-March 21, 2020) to a later date.
We will be in touch with ticket holders with information on the alternate date for The Maestro Returns as soon as we have it.
Ticket holders for the Irish Festival can:
Exchange tickets into any remaining 2019-2020 JSO Concert.
Donate the cost of your ticket purchase, and receive a tax deduction.
To exchange or donate your tickets, please call the JSO Box Office from 10 AM to 5 PM (M-Th) or 10 AM to 4 PM (Friday) at 517.782.3221 or email info@jacksonsymphony.org
The Irish Festival Band (The Founding) will be performing a free outdoor concert on Friday, May 22, 2020 in Jackson's Blackman Park. Ticket holders for the Irish Festival can join us for a preconcert reception with the band in Weatherwax Hall.
We appreciate everyone's understanding as we navigate the situation.
You can stay informed on the coronavirus by visiting Michigan.gov/Coronavirus and CDC.gov/Coronavirus.
We look forward to music-ing with you again soon!
Sincerely,
Matthew Aubin
Executive Director and Music Director
Jackson Symphony Orchestra