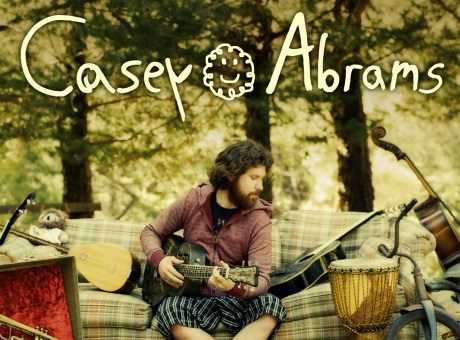 Casey Abrams is a musician with influences so varied that the word "eclectic" is a pale description.
Abrams, most famous for being a finalist on the "American Idol" television show, lists major influences including Thelonious Monk, Freddie Mercury, James Taylor, and AC/DC.
"They were all popular musicians of their time, but in different genres," said Abrams, a singer-songwriter who describes his music as jazz-rock. "I like mixing them all up."
You can hear that musical mixture when Abrams performs Friday, Oct. 10, in downtown Jackson at Weatherwax Hall, aka "The Wax," 215 W. Michigan Avenue. The show is part of Jackson Symphony Orchestra's new Affinity Series of non-classical concerts, which brings up-and-coming stars to Jackson.
Showtime is 8 p.m., with doors opening at 7:30 p.m. Tickets are $20, and for $50 more fans can meet Abrams up close and personal at a VIP session starting 6:30 p.m.
Abrams will sing and play several instruments onstage at The Wax, backed by a guitar/bass player and a saxophone player.
"When you hear it, you're going to say that sounds like a big band," said Abrams, 23. "There is a lot going on, musically."
Abrams began playing piano in preschool and later took up the clarinet. Eventually he also learned guitar, cello, bass, and drums, among other instruments. He enjoyed a musical hobby of recording himself singing all parts in operatic-style scores.
"Every musical thing came at me, and I tried to take it all in," Abrams said.
Born in Texas, Abrams moved as a child to Idyllwild, Calif., where he attended Idyllwild Arts Academy. After graduation, he enrolled in college as a music student.
In2011, his life changed rapidly when Abrams auditioned for "American Idol" and won a spot on the show.
"Until then, I was a student of music," said Abrams. "I still consider myself a student of music."
Abrams had a great run on "Idol," finishing sixth. On the finale show, he sang a rollicking duet with comedic actor and musician Jack Black.
Was he surprised to do so well in the competition? Yes and no.
"When I auditioned, I was just seeing what would happen," Abrams said. "At the same time, I knew I had something different and weird."
Following "Idol," Abrams recorded a self-titled album in London with Martin Terefe, who has produced the music of stars including Jason Mraz.
Abrams likes having fun – for proof, check out the four-minute mockumentary humor video he released last year with Black, called "Casey Abrams is homeless!" below and he promises surprises for his audience in Jackson.
"It's a 3D show, not 2D," Abrams said. "I like messing with the audience. I'll leave it at that."