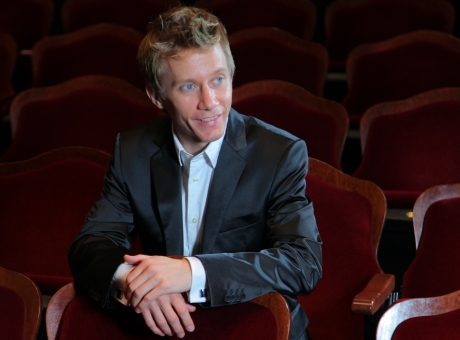 Scott Seaton to guest conduct JSO's Nov. 15 – "Michigan & Finland: A Tale of Two…Cold Places"
The Jackson Symphony Orchestra presents the second concert of the 2014-15 season on Nov. 15 at 7:30 p.m. at Potter Center on the campus of Jackson College with guest conductor Scott Seaton of Minot, ND, at the podium.
Seaton is the Music Director of the Minot Symphony Orchestra and Assistant Conductor of Festival Opera (California), a post he has held for the past five years where he worked on several productions from Puccini's Turandot to Britten's A Midsummer Night's Dream with Music Director Michael Morgan.
"After living and working in so many different places in my life, the prospect of returning to Michigan – a state with such immense natural beauty – is very exciting to me," explains Seaton. He spent the majority of his early childhood in Michigan and has numerous affiliations and family in and around the Detroit area. He also spent several years working at Interlochen Arts Camp and was always "inspired by the incredible amount of talent that this state nourishes every single year."
His guest conductor experience includes work with orchestras throughout North America and Europe. In the past few seasons he has conducted multiple concerts with the Toronto Philharmonia Orchestra, Mansfield Symphony Orchestra and Western Plains Opera. He has also performed with the Brandenburger Symphoniker, Milwaukee Symphony, Memphis Symphony, Winnipeg Symphony, National Symphony Orchestra, Detroit Symphony Orchestra and the Cincinnati Symphony Orchestra.
In 2012, Seaton was the winner of the highly respected Interaction competition in Berlin, Germany and, as a result, had the opportunity to work with an orchestra composed of Germany's top orchestras, including the Berlin Philharmonic, Konzerthaus Orchestra, German Symphony Orchestra and the Radio Symphony Orchestra of Berlin.
Selections for the Nov. 15 concert include Michigan composer Evan Chambers' Kairos and Sibelius' Finlandia and Symphony #2.
"Sibelius intertwines the majesty of Tchaikovsky and the expansive maturity of Bruckner in his second symphony. The unforgettable, love-saturated melody at the dawn of the last movement can't help but to make one feel that all is right," adds Seaton. He also points out that Symphony #2 of Sibelius has many parallels with Michigan in terms of music that glorifies a beautiful and natural landscape.
Both JSO Maestro Stephen Osmond and Seaton are enthusiastic advocates of contemporary music. Seaton is also active with new music groups including Mimesis, a New York City-based ensemble dedicated to performing the music of living composers, and FiveOne, a Cleveland-based ensemble, with whom he has recorded several premieres. Last season, he also worked with The New York Chamber Virtuosi.
He especially looks forward to working with the JSO and "making wonderful music with this great orchestra," he stated. "I anticipate a fun week of working on music from my favorite composer and then translating that energy and enthusiasm to the audience," he added.
The Michigan and Finland: Tale of Two…Cold Places concert is sponsored by Consumers Energy and co-sponsored by Comerica Bank. In addition, JSO concert ticket holders are invited to attend the complimentary and highly acclaimed pre-concert lecture series, Backstage Glimpse, hosted by Dr. Bruce Brown. This lively lecture takes place at 6:30 p.m. in the Federer Room at Jackson College and is sponsored by Commonwealth Associates.