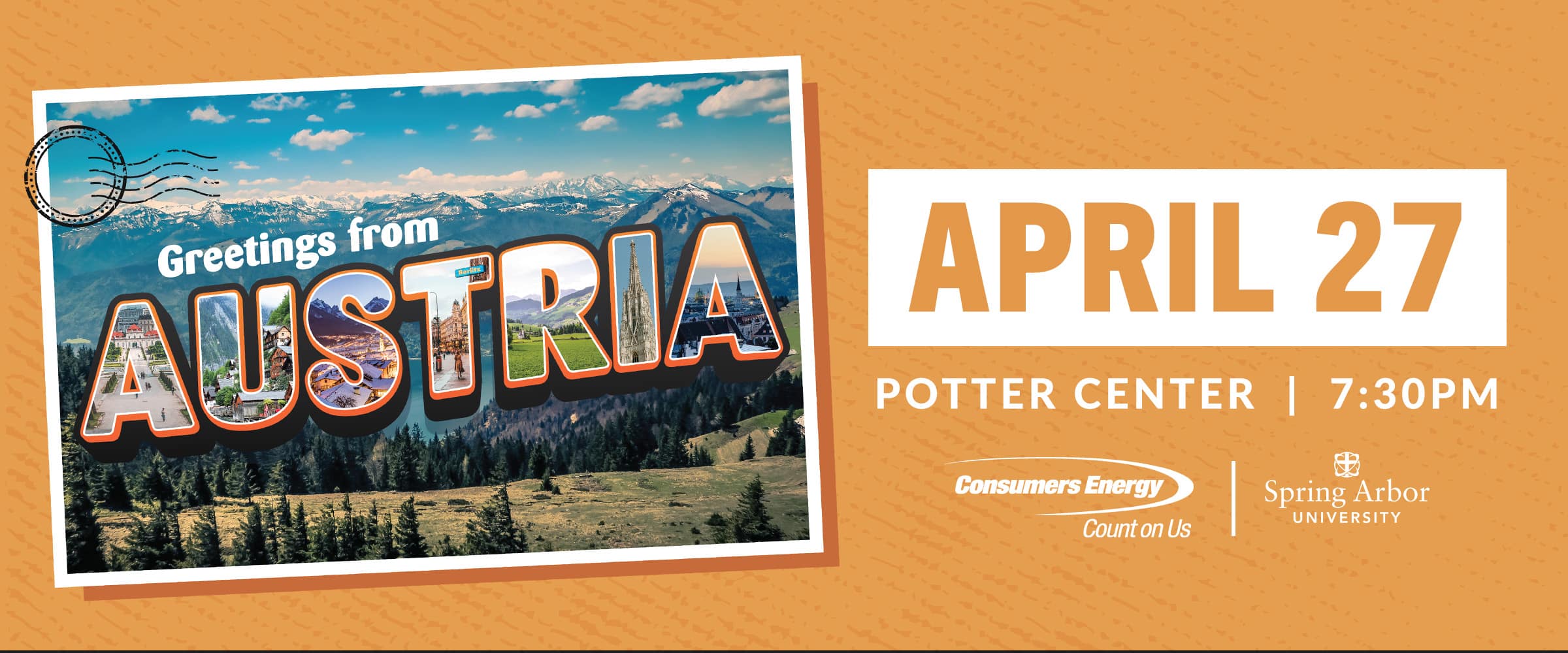 PROGRAM NOTES
April 27, 2024
By Composer in Residence
Bruce Brown
Many of the greatest musicians of all time made their home in Vienna, Austria's opulent capital. Haydn, Mozart, Beethoven, Schubert, Brahms, Liszt, Mahler, and many others flourished in its rich musical culture. Other notable figures from Gustav Klimt to Sigmund Freud walked its streets and enjoyed its world-famous coffee shops. For its final concert of the 2023-24 season, the JSO will bring "Greetings from Austria."
Program will begin with a brilliant overture premiered shortly after World War II, written by a gifted Polish woman, Grażyna Bacewicz, who kept composing despite her family's captivity in camps for "displaced persons."
Kasey Shao, one of two Young Artist Award winners for the 2024 edition of the prestigious Gilmore Festival, will perform a stunning piano concerto written by a fourteen-year-old who became one of the most famous pianists of all time, Clara Schumann.
The evening will close with a monumental symphony to celebrate the 200th birthday of a self-effacing genius, Anton Bruckner, whose compositions soar to breathless heights.
Overture
Grażyna Bacewicz (1909-1969) was the second female composer from Poland to achieve international recognition. The first, Maria Szymanowska, lived from 1789 to 1831, became one of the first virtuoso pianists of her time, and wrote piano works that scholars say "had an obvious impact on Chopin's mature musical language."
Bacewicz was a very active soloist and composer. From 1936 to 1938 she served as the principal violinist of the Polish Radio Orchestra, a position that allowed her to hear her music played. After the war, she became a professor at the State Conservatoire of Music in Łódź. She received many awards and commissions, including first prize in the 1951 International Composers' Competition in Belgium.
During World War II, Bacewicz lived in Warsaw and gave secret underground concerts. Her sister was wounded, and her family was moved to camps for refugees. Through it all, she kept composing, completing her second string quartet, first sonata for solo violin, first symphony and best known work, this Overture. Four months after Germany's surrender, on September 1, 1945, the Kraków Philharmonic premiered Bacewicz's newest creation at the city's Festival of Contemporary Music.
As Linda Shaver-Gleason, writing for Los Angeles Philharmonic, has said, the Overture "packs the power of a larger symphonic work into a compact six minutes."
Piano Concerto, Opus 7, A minor
Clara Wieck Schumann (1819-1896) achieved great fame as a performer during an amazing sixty-one-year career. Edvard Grieg called her "one of the most soulful and famous pianists of the day." Several films immortalized her remarkable life, including Träumerei (Dreaming) in 1944 and Geliebte Clara (Beloved Clara) in 2008.
She started touring in cities from Paris to Vienna at the age of eleven. Her gifted playing exerted tremendous influence on other pianists. She transformed the repertoire of piano recitals, moving away from reliance on shallow, flashy works to include music of real depth and expression. In 1878, she became a distinguished teacher at Dr. Hoch's Konservatorium in Frankfurt, where her studio attracted students from many countries.
When Clara Weick was fifteen years old, she fell deeply in love with a charismatic man ten years older, Robert Schumann. She was already famous, and her father, who was also her teacher, did everything he could to stand in their way. After several years and a bitter court fight, the lovers married when she came of legal age. Before that year, 1840, Robert had written almost exclusively for the piano. In an incredible burst of ecstasy, often called his Liederjahr (year of song), he wrote 168 songs celebrating their union.
Robert encouraged Clara's composing, and thankfully, most of her creations were published, not languishing in obscurity like the works of many women repressed by the prejudice of their time.
Clara's compositional output included piano pieces, choral music, songs, and her astonishing piano concerto, which she started writing in 1833. By November, she had completed a single-movement Konzertsatz (Concert Piece) and orchestrated it herself. In February, her future husband Robert revised the orchestration, and the fourteen-year-old prodigy performed it several times.
She soon added two more movements, expanding the piece into a full concerto. The Konzertsatz became the finale. She finished a new first movement in June of 1834, and added the second movement, a Romance with an extensive cello solo, the next year. Clara orchestrated the music herself, removing Robert's revisions.
The work was completed on September 1, 1835, twelve days before her 16th birthday. Felix Mendelssohn conducted the premiere performance on November 9, 1835, with Clara and the Leipzig Gewandhaus Orchestra.
Clara Schumann's piano concerto stands proudly alongside similar works by Chopin and other composers, and it influenced important concertos that came after it by Franz Liszt, her husband Robert, Johannes Brahms and many others.
Symphony No.4, WAB 104, (1874 Version, Cahis 6) E-flat major
Anton Bruckner (1824-1896) was a superb organist and gifted composer best known for his symphonies and sacred music. His rich, powerful compositions and the works of Richard Strauss and Gustav Mahler are often considered the final, crowning stage of Romanticism in Germanic music.
Bruckner learned to play organ as a young boy and often practiced up to twelve hours a day. His fame as a performer led to international concert tours and teaching posts at the University of Vienna and Vienna Conservatory. Oddly enough, he wrote no major works for organ, but improvisation sessions at the keyboard produced many fertile ideas for his compositions. His approach to orchestral scoring often seems to imitate pipe organs shifting between groups of pipes when changing stops or manuals.
As a composer, Bruckner was largely self-taught and didn't start composing seriously until his late thirties. His works didn't receive widespread attention until he was over sixty, after the 1884 premiere of his seventh symphony. In 1886, when he was 62, Emperor Francis Joseph I decorated him with the Order of Franz Joseph.
Unlike many other composers, Bruckner acted incredibly humble around other musicians, especially Richard Wagner. Their criticisms seemed to magnify his deepest insecurities, and he made countless changes to his music based on comments from detractors. His music was greatly admired by later composers and some colleagues, including his friend Gustav Mahler.
Bruckner's habit of tinkering and rewriting creates what musicologist Deryck Cooke called "The Bruckner Problem," the challenge of identifying definitive versions of his works. Bruckner originally composed his fourth symphony between 1873 and 1874, but he produced revised versions in 1878-80 and 1887-88. Maestro Aubin has wisely chosen to perform Bruckner's earliest conception, finished in 1874. Hans Richter conducted the Vienna Philharmonic in the first performance on February 20, 1881.
According to several contemporaries, Bruckner had a colorful program in mind for his fourth symphony, known as the "Romantic," the only one he gave a subtitle. Musicologist Theodor Helm shared this thorough but concise summary that Bruckner reportedly shared with a friend:
Mediaeval city—Daybreak—Morning calls sound from the city towers—the gates open—On proud horses the knights burst out into the open, the magic of nature envelops them—forest murmurs—bird song—and so the Romantic picture develops further…
James M. Keller, in notes for San Francisco Symphony, wrote this apt description:
The symphony concludes in a breathtaking coda: Soaring across a seemingly limitless harmonic landscape, the music builds into a blazing climax in which power, dignity, excitement, and affirmation each lend a shoulder to the task of ending this massive masterwork.