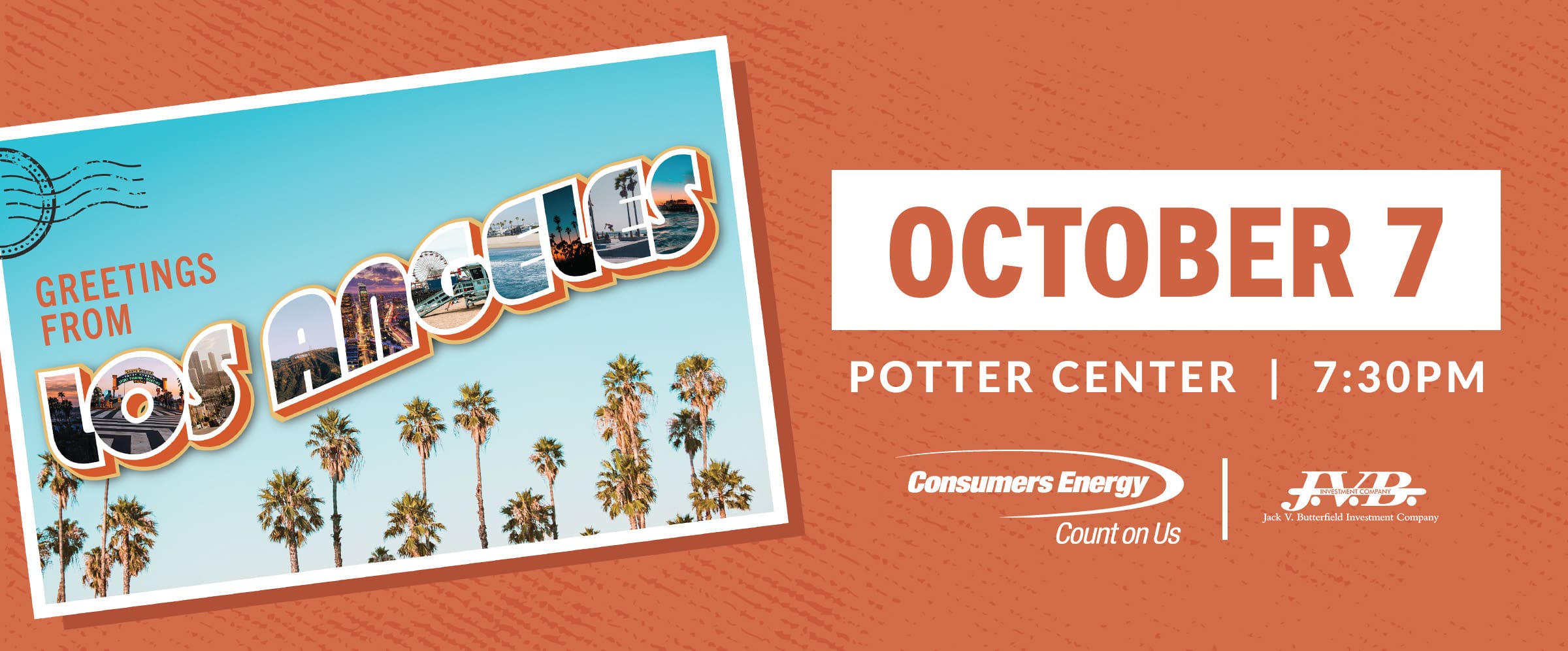 PROGRAM NOTES
October 7, 2023
By Composer in Residence
Bruce Brown
For its 74th season, the JSO is embarking on a tour of great musical destinations. The year begins with "Greeting from Los Angeles," a dynamic sampling of music that begins and ends with popular fanfares.
John Adams' dazzling Short Ride in a Fast Machine –originally called Fanfare for Great Woods, the Pittsburgh Symphony's summer festival – will kick things off. Aaron Copland's Third Symphony, incorporating his beloved Fanfare for the Common Man, will bring the evening to a rousing close.
Violinist William Hagen will join the festivities to perform a stunning concerto by a composer who wrote glorious soundtracks during Hollywood's golden age that continue to inspire outstanding composers like John Williams.
Short Ride in a Fast Machine
John Adams (born in 1947) is one of the most exciting composers writing music in our time. His creative genius has earned him five Grammy awards. Adams won the 2003 Pulitzer Prize for his deeply moving work, On the Transmigration of Souls, a tribute to the victims of the September 11 attacks.
After studies at Harvard, Adams taught at the San Francisco Conservatory, served as the composer in residence with the San Francisco Symphony, and developed international fame as a conductor. More recently, he served as the "Creative Chair" of the Los Angeles Philharmonic with charismatic conductor Gustavo Dudamel.
Early experiments with prevailing 20th century techniques left Adams dissatisfied. He rejected highly dissonant sounds and experienced a "diatonic conversion" that led to a more consonant approach. "This made me realize the resonant power of consonance," he said, "The composers that mean the most to me are those whose music is music of sustained resonance." He went on to develop his own unique style combining the repetition of minimalism with dramatic excitement and nods to music great masters of the past.
Short Ride in a Fast Machine was commissioned for the opening of the Pittsburgh Symphony's Great Woods Festival and premiered under conductor Michael Tilson Thomas on June 13, 1986. In 2008, this exciting, four-and-a-half minute piece was recognized as one of the ten most frequently performed orchestral works of the past quarter century.
Adams has described the music by saying, "You know how it is when someone asks you to ride in a terrific sports car, and then you wish you hadn't?"
Violin Concerto in D Major, Opus 35
When composer Erich Korngold (1897-1957) was nine years old, Gustav Mahler called him a genius. Three years later, Korngold's father published three of his son's works, and famous musicians across Europe were astonished. Emperor Franz Josef soon called for a command performance of one of them, and Korngold's fame grew by leaps and bounds.
Warner Brothers brought Korngold to Hollywood in 1932 to arrange music for films. He'd won two Oscars when the Nazi Anschluss of 1938 forced him to stay in America. This season, the JSO will present two of Korngold's finest works, one on tonight's program, and a second in November. Both of them have deep connections with his superb movie scores, which helped create the rich, expressive style of movie music from the thirties and forties. He thought of his lavish soundtracks as "operas without singing," and they filled many scenes from beginning to end.
Korngold vowed to write film music until "the monster in Europe is removed from the world." After WWII, he quit abruptly, stung by snobbish critics who said writers of movie music had "sold their integrity to Hollywood." He set out to prove them wrong, and produced his masterful violin concerto, which earned him raves from audiences and musicians. Even so, one stubborn critic for the New York Sun described it as "more corn than gold."
This brutal criticism is hardly justified. Bach and Handel reworked earlier pieces to produce some of their finest works. Prokofiev's music for the films Alexander Nevsky and Lieutenant Kije led to frequently performed concert works. Ralph Vaughan Williams crafted his Sinfonia Antartica out of music he'd written in 1948 movie, Scott of the Antarctic.
Several themes in Korngold's concerto are pulled directly from his colorful film scores. Or were they? He had been pondering a concerto for years. One friend, violinist Bronislaw Hubermann, often asked, "Erich, where is my concerto?" Maybe some of those tunes were conceived earlier and then put into film scores. Perhaps we'll never know.
The opening of Korngold's first movement comes from Another Dawn, screened in 1937. The second theme appeared in 1939 in a movie called Juarez. The stunning music of the second movement, Romance, earned an Oscar for Anthony Adverse, a major hit in 1936. The boisterous finale's second theme came from The Prince and The Pauper a year later.
Korngold almost abandoned his concerto after a disastrous reading by one of his friends. Another chum, who happened to be Jascha Heifetz manager, urged Korngold to show it to his client. Heifetz urged Korngold to make the finale even more difficult and played the concerto's triumphant premiere in St. Louis on February 15, 1947. The response has been described as "the most enthusiastic ovation in St. Louis concert history."
Heifetz performed it again a month later at Carnegie Hall for a New York Philharmonic broadcast. The concerto quickly became Korngold's most popular work and a bedrock standard in the repertoire. The grateful composer later said, "It is needless to say how delighted I am to have my concerto performed by Caruso and Paganini in one person: Jascha Heifetz."
Third Symphony
Aaron Copland (1900-1990), often called "The Dean of American Composers," achieved fame and popularity most contemporary composers only dream of. It is no exaggeration to say his name is instantly recognizable.
Copland began dabbling in songwriting when he was eight, but as a fifteen-year-old, he heard an astonishing concert by Polish pianist Ignacy Paderewski that changed his life. He immediately devoted himself to composing. One of his teachers, Victor Wittgenstein, described him as "quiet, shy, well-mannered, and gracious in accepting criticism." Like so many great musicians, Copland also studied in Paris with Nadia Boulanger.
His ballets Billy the Kid, Rodeo, and Appalachian Spring established a unique, personal style that exemplifies American music for many. (Come back in November to hear that last one!) He wrote brilliant film scores for The Red Pony, Of Mice and Men, and Our Town, in addition to pieces in almost every genre: chamber music, vocal works, opera, piano pieces, and many other works for orchestra.
Along the way, Copland became a gifted teacher, writer, mentor, and conductor. He believed deeply in encouraging people to know and love music. His influential books, What to Listen for in Music, Our New Music, and Music and Imagination, educated countless readers with characteristic wit, insight, clarity, and humility.
Copland wrote his third – and last – symphony between 1944 and 1946 as World War II was ending. During that time, the nomadic composer lived and worked in Mexico, New Jersey, Connecticut, New Hampshire and at Tanglewood in Massachusetts. Even so, he barely finished the score in time for the Boston Symphony premiere, conducted by Serge Koussevitzky on October 18, 1946.
The finale of Copland's third symphony is built around his famous and beloved Fanfare for the Common Man. Allusions to it are also heard throughout the work. At the height of World War II, in 1942, the Cincinnati Symphony's conductor, Eugene Goossens, commissioned 18 composers to write fanfares for brass and percussion. "It is my idea," Goosens said, "to make these fanfares stirring and significant contributions to the war effort."
Most of the resulting pieces celebrated an allied country or a military unit. Copland chose a more universal approach, saying: "It was the common man, after all, who was doing all the dirty work in the war and the army. He deserved a fanfare."
Copland, in his gentle, peaceful way, denied writing this symphony as a direct response to the war. But, he said, its "affirmative tone [was] certainly related to its time."