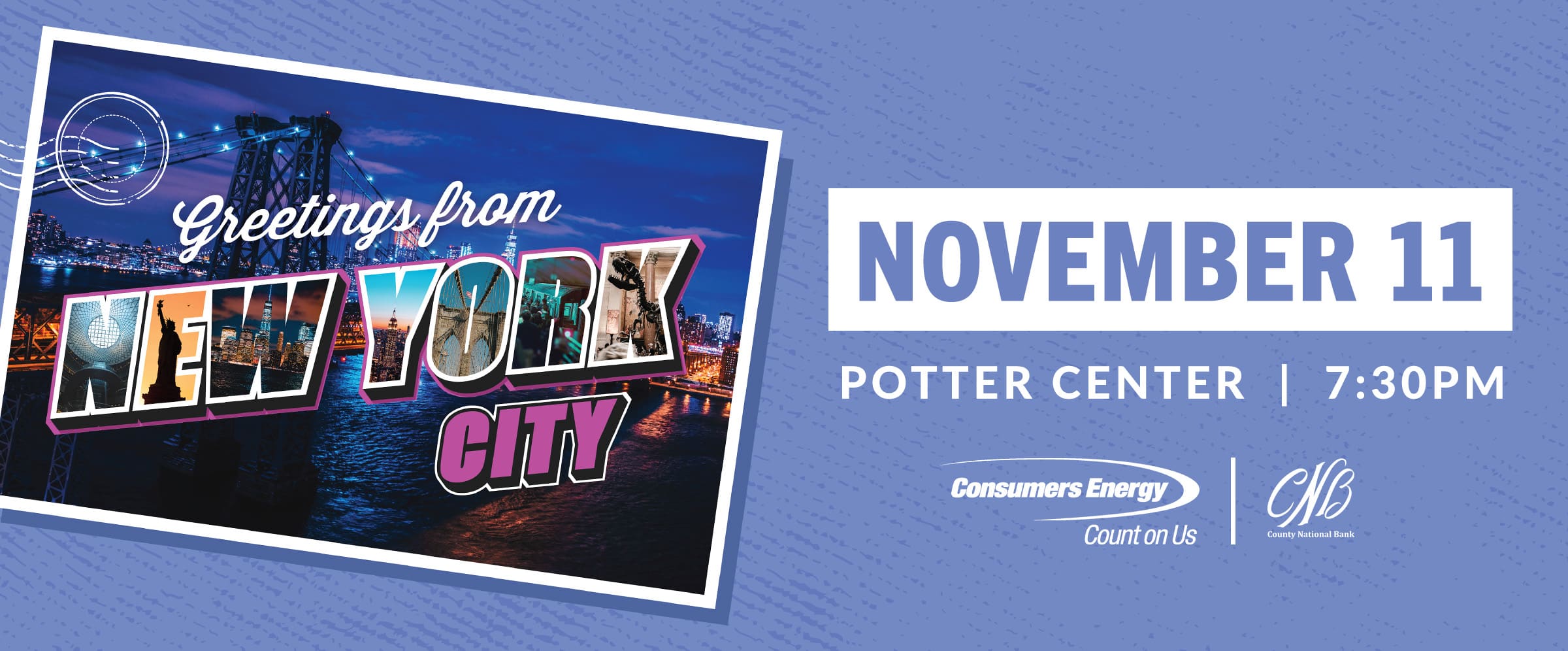 PROGRAM NOTES
November 11, 2023
By Composer in Residence
Bruce Brown
The JSO's richly varied November offering, "Greetings from New York," will begin and end with landmark ballet music written for Martha Graham. Gifted cellist Hannah Holman, one of Jackson's own, will join the orchestra for two solo works. The final ingredient will be an impressive, but simply titled, piece by a woman born in Kentucky whose expertly crafted works deserve greater exposure.
Dancer and choreographer Martha Graham, whose legendary career lasted for more than seventy years, invented a new language of movement. "I did not want it to be beautiful or fluid, she insisted, "I wanted it to be fraught with inner meaning, with excitement and surge." She was the first dancer to perform at The White House, the first to travel abroad as a cultural ambassador, and the first to receive America's highest civilian award, the Medal of Freedom.
Hannah Holman studied at the prestigious Eastman School and New England Conservatory and has performed across the United States and around the world. Her stellar career has included playing under world-famous conductors Yehudi Menuhin and Simon Rattle. She is currently a member of the New York City Ballet Orchestra and serves as the principal cellist of the Quad City Symphony and Artistic Director of the Deanery School of Music in Iowa. A review in Fanfare Magazine has described her playing as "the stuff that cello legends are made of."
Medea
Writer and music editor Paul Wittke once wrote that Samuel Barber (1910-1981) didn't believe "in raising the decibel of aural shockwaves. He remained a maverick romantic lyricist in a turbulent age." Barber wrote many beautiful and skillful works, including his deeply moving Adagio for Strings, one of the iconic works of the 20th century.
In 1946, The Ditson Fund of Columbia University commissioned Barber to write a ballet for Martha Graham based on Euripides' tragic play Medea. Early drafts of the work were called "Serpent's Heart" and "Cave of the Heart." Barber crafted a dramatic, seven-movement suite from the music a year later, and almost a decade after that, created another work from the score, Medea's Dance of Vengeance.
In Euripides's tragedy, Medea poisons Glauce and Creon, then, to exact revenge on Jason, she murders both their children.
In his own program note for the ballet, Barber wrote:
Neither Miss Graham nor the composer wished to use the Medea-Jason legend literally in the ballet. These mythical figures served rather to project psychological states of jealousy and vengeance which are timeless.
Concerto, Violoncello, op. 37, C major (in one movement)
Erich Korngold (1897-1957) became one of Europe's most celebrated musicians at an early age. Then World War II reared its ugly head. Korngold fled to America to write colorful, dramatic film scores that won Oscars and continue to influence movie composers today.
After the war, Korngold's reputation waned. Ivory-tower critics panned his Hollywood success, saying writing for movies somehow demeaned his Austrian musical heritage. In recent years, Korngold's star has risen again, and his evocative, powerful music has taken its rightful place as a mainstay of the repertoire.
In October, the JSO and violinist William Hagen performed Korngold's masterful violin concerto. Tonight's concert will feature the vibrant concerto he wrote for cello.
In 1946, Bette Davis starred in Deception, a "racy, classic tale of passion, jealousy and lust for power." The central characters are all musicians. Korngold wrote brilliant music depicting a concerto that one of them, a cellist, is preparing to perform. Actor Paul Henreid appears to be playing, but viewers are actually hearing cellist Eleanor Aller.
Korngold soon expanded what he'd written into single-movement concerto. Janet Horvath, who has performed Korngold's opus several times with the Minnesota Orchestra, describes it as "impetuous, virtuosic and a great vehicle [for] the cello soloist."
Short Piece
Julia Perry (1924-1979), a composer, pianist and composer born in Lexington, Kentucky, wrote many fine pieces including twelve symphonies, two piano concertos, a violin concerto, a Requiem for Orchestra. She also composed three operas including one, based on the Salem witch trials, left unfinished at her death. Perry's early works were deeply influenced by her African-American heritage. Her style later expanded to include many contemporary techniques.
After study at Westminster Choir College, Juilliard, and Tanglewood, Perry worked with Nadia Boulanger in Paris, receiving the Boulanger Grand Prix for her violin sonata. She also won two Guggenheim Fellowships and was sponsored by the United States Information Service to conduct a series of concerts in Europe.
Perry's best-known work, written in 1952 and titled simply Short Piece, was performed and recorded by the New York Philharmonic in 1965 under conductor William Steinberg. John Henken, writing for the Los Angeles Philharmonic, describes Short Piece this way:
"… initially raucous, highly energized essay, brilliantly scored. There are edgy lyrical contrasts, however, and the work closes in a haunted Lento, before a whiplash ending returns the aggressive opening thunder."
Trauermusik
In 1922, Paul Hindemith (1895-1963) was working as a violinist and violist. Then several of his compositions were performed in Salzburg at a prominent festival. The 27-year old was quickly recognized as one of the finest composers of his time. Hindemith's prodigious output included theoretical books, operas, ballets, orchestra pieces, chamber music, and many other works. When he fled Nazi Germany, friends arranged for him to come to America, where he taught at Yale and delivered influential lectures at Harvard.
On the 19th of January in 1936, Hindemith traveled to London to play the British premiere of his viola concerto, Der Schwanendreher, with Adrian Boult and BBC Symphony. Those plans imploded when King George V died the next day. Boult and the BBC's music producer, Edward Clark, insisted the concert should go on as a tribute to dead monarch, and they wanted Hindemith to be involved.
When none of his existing pieces seemed appropriate, they put him in an office with a small army of copyists waiting nearby. Hindemith worked diligently from 11 am to 5 pm and created an eight-minute masterpiece in four movements. He later wrote to a friend, "from 11 to 5 … I did some fairly hefty mourning." Another day later, on January 22nd, Hindemith rehearsed his new creation with Boult and the orchestra, and they performed it in a live broadcast that night.
Appalachian Spring
On July 23, 1942, Elizabeth Sprague Coolidge wrote to Aaron Copland (1900-1990) offering $500 "to be applied to the writing of a music score for a new dance program for Martha Graham." Copland and Graham had already discussed a joint project, but Copland was in Hollywood making much more money, writing music for a film, The North Star.
They finally agreed on a gentle story set in rural Pennsylvania. Copland wrote the music between spring 1943 and early August 1944. The première of Appalachian Spring, on October 30, 1944, at the Library of Congress, was a huge success.
In the ballet's simple plot, a shy young couple marries and settles into peaceful life in a small rural community. Copland's masterstroke was incorporating an old Shaker hymn, Simple Gifts. That imagery – "'Tis the gift to be simple, 'tis the gift to be free" – seems to represent the spirit of the whole composition.
Appalachian Spring's popularity led Copland to create five different versions and two settings of the Simple Gifts music. In 1945, he created the suite with full orchestral instrumentation that is most often heard today. He was awarded the Pulitzer Prize for his new creation that same year.
Graham chose the title shortly after reading The Dance by Hart Crane. In that poem, "Appalachian spring" refers to bubbling up water, but the piece has always been associated with the season of the year. Copland once said, "people come up to me after seeing the ballet on stage and say, 'Mr. Copland … when I hear your music, I can just see the Appalachians and I just feel spring.' Well, I'm willing if they are!"