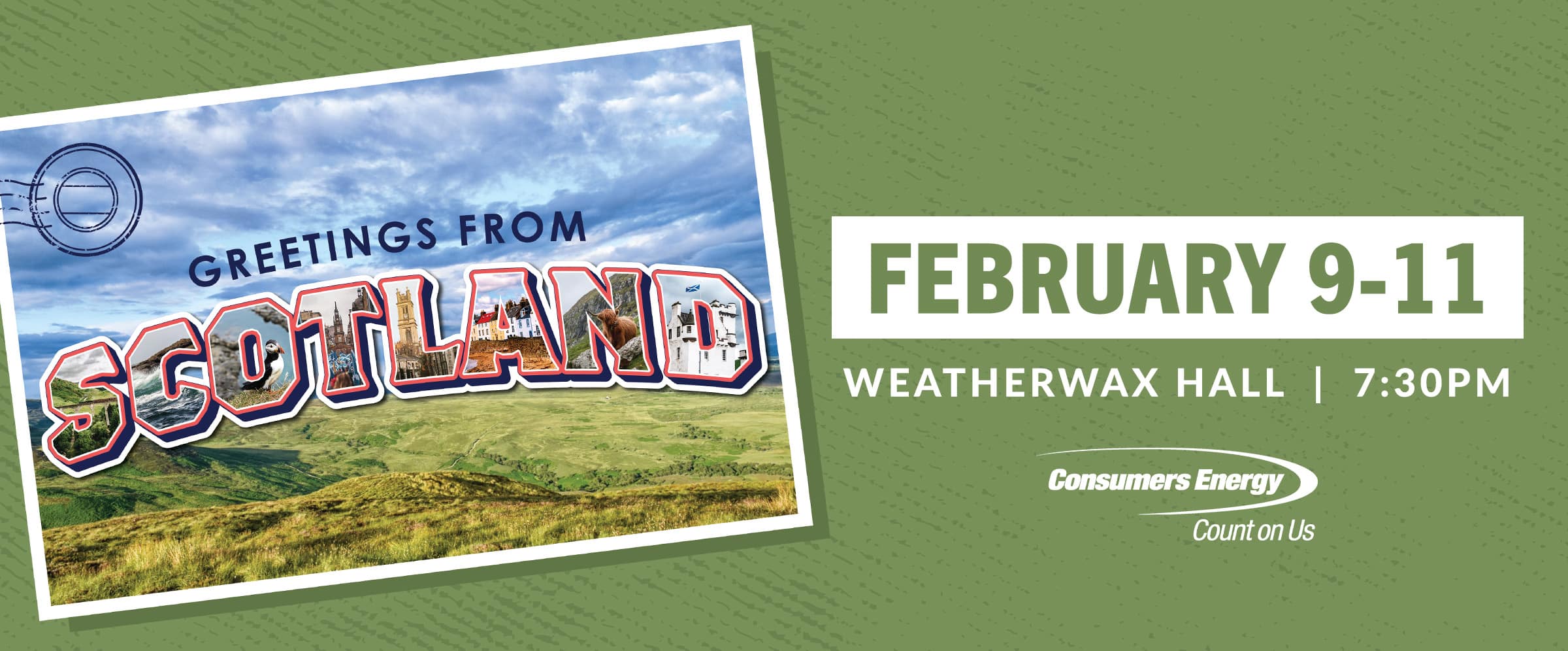 PROGRAM NOTES
February 9-11, 2024
By Composer in Residence
Bruce Brown
In 1829, Felix Mendelssohn (1809-1847) – Jakob Ludwig Felix Mendelssohn Bartholdy – took a journey that changed his life. The twenty-year-old wunderkind already had two major successes, his Octet and the famous Overture to A Midsummer Night's Dream, which one writer has called "the greatest marvel of early maturity that the world has ever seen in music."
Mendelssohn's family was sending him on a traditional coming-of-age journey, but his Grand tour of Europe had a unique twist. It would take him to England and Scotland. The usual destinations, France and Italy, would have to wait.
The JSO's "Greetings from Scotland" concert – in the intimate setting of Weatherwax Hall – will celebrate the genius of two Mendelssohns, Felix and his beloved sister Fanny. Her sparkling Overture in C will kick things off with exuberant vitality. Violinist Clara Saitkoulov, concertmaster of the Swedish Chamber Orchestra, will join the orchestra for Felix's glorious violin concerto. Mendelssohn's wonderful Scottish Symphony, inspired by his sojourn there, will bring the evening to a stirring close.
Overture in C major
Fanny Mendelssohn Hensel (1805-1847), the oldest of four children, was born four years before her younger brother. Her compositional gifts were overlooked for many years, despite the fact she wrote more than 250 Lieder (songs), more than 125 piano pieces, a piano quartet, piano trio, and her vivacious Overture in C. Nearly all of them remained unpublished during her lifetime. Renewed interest in recent years has helped restore her rightful place in history.
One teacher, Carl Friedrich Zelter, wrote that Abraham Mendelssohn had "adorable children, and his oldest daughter could give you something of Sebastian Bach. This child is really something special."
In the words of historian Richard Taruskin, "The life of Fanny Mendelssohn Hensel is compelling proof that women's failure to 'compete' with men on the compositional playing-field has been the result of social prejudice and patriarchical mores…" To his credit, her husband, artist Wilhelm Hensel, supported her music and believed she should publish.
Felix and Fanny were very close. As they grew up, works both had written were performed frequently at Sunday concerts in their home. At Fanny's public debut as a pianist, she performed her brother's first piano concerto. They wrote to each other often, and she sent constructive criticism which he always considered carefully. Felix, in fact, often called her "Minerva," comparing her to the Roman goddess of wisdom.
In 1847, Fanny suffered a stroke while rehearsing her brother's oratorio The First Walpurgis Night. She was only 42 years old, and her death shocked Felix greatly. After his own series of strokes, he died later that year at the age of 38.
Scholars believe Fanny wrote her Overture in C Major sometime between 1830 and 1832. It languished, undiscovered, in a library for more than 100 years after her death. It is one of very few orchestral compositions from the early 19th century, but its skillful writing amply demonstrates her deep understanding of instruments and compositional craft.
It probably received few performances, but Fanny was invited to conduct at least one of them. She later wrote to Felix:
Had I not been so shy, and embarrassed with every stroke, I would've been able to conduct reasonably well. It was great fun to hear the piece for the first time in two years and find everything the way I remembered. People seemed to like it—they were very kind, praised me, criticized a few impractical passages, and will return next Saturday. Thus I took part in an unexpected pleasure.
Concerto for Violin and Orchestra, op.64 in E Minor
Robert Schumann described Felix Mendelssohn as "the Mozart of the nineteenth century, the most illuminating of musicians, who sees more clearly than others through the contradictions of our era and is the first to reconcile them."
Like Mozart, Mendelssohn proved his talent at a very early age, and both died tragically young. As a boy, Felix rose at 5:00 am and received a superb education. In addition to his musical talents, he spoke fluent German, French and English, could read Greek and Latin, and excelled in natural science, literature, drawing and painting.
When he was nine years old, Mendelssohn gave his first piano recital, and he started composing shortly after that. His thirteen string symphonies, written between the ages of twelve and fourteen, are models of classical style. He wrote his Midsummer Night's Dream Overture, an unquestioned masterpiece, when he was seventeen.
In the words of Philip J. Goulding, Mendelssohn's music "is refined, comfortable, controlled, melodious … You cannot feel depressed after listening to Mendelssohn's melodies – and nothing has clashed in your ears. Neophyte listeners know that they are hearing graceful and beautiful music; the professionals acknowledge magnificent skill…"
Mendelssohn was a brilliant conductor, one of the first to use a baton. In his book The Lives of the Great Composers, Harold Schonberg, relates that Mendelssohn:
made his orchestra a precision unit. As a conductor he was sparing in gesture, inclined toward fast tempos, and insistent on accurate rhythm and smooth ensemble.  … Spirited, high-strung, dictatorial, he demanded obedience from his players and was known to lose his temper if he did not get what he wanted."
In 1838, Mendelssohn wrote to his good friend Ferdinand David: "I should like to write a violin concerto for you next winter. One in E minor runs through my head, the beginning of which gives me no peace." David worked closely with Mendelssohn on the concerto, which wasn't completed until six years later.
Their close collaboration produced a masterful work that influenced many other composers. David first performed the work in Leipzig on March 13, 1845. Mendelssohn was ill and unable to conduct. He performed the concerto for the first time with David the following October.
At his 75th birthday party, the year before his death, the famous violinist Joseph Joachim said:
The Germans have four violin concertos. The greatest, most uncompromising is    Beethoven's. The one by Brahms vies with it in seriousness. The richest, the most seductive, was written by Max Bruch. But the most inward, the heart's jewel, is Mendelssohn's.
Symphony #3 in A Minor, Opus 56, The "Scottish"
The rugged landscape and colorful history of Scotland inspired countless works of art and literature during the Romantic era. Mendelssohn's tour of Bonny Scotland led to the creation of two great works, his Hebrides (or Fingal's Cave) Overture and this masterpiece of a symphony, one of his crowning achievements.
On July 30, 1829, Mendelssohn wrote a letter to his family about his visit to Holyrood Palace in Edinburgh.
In the evening twilight, we went today to the palace where Queen Mary lived and loved … The chapel … is now roofless, grass and ivy grow there, and at that broken altar Mary was crowned Queen of Scotland. Everything 'round is broken and moldering, and the bright sky shines in. I believe I have found today in that old chapel the beginning of my Scottish Symphony."
Mendelssohn quickly wrote sixteen measures of music that he eventually refined into the opening Andante of his symphony. He dabbled with the composition over the years, but in late 1840, he started working on it in earnest while he was conductor in Berlin.
He finished the work on January 20, 1842, and conducted the premiere performance with the Leipzig Gewandhaus Orchestra on March 3rd. Three months later, on another visit to London, Mendelssohn met Prince Albert and Queen Victoria. He dedicated the symphony to her.
Mendelssohn did not formally title the piece "Scottish" Symphony." He preferred to present it as absolute music, but over the years, the name stuck. There are clearly Scottish elements in the piece, including the "Scotch snap" (a short-long, short-long rhythmic pattern), melodies that sound like Scottish folk tunes, and occasional drones reminiscent of bagpipes.