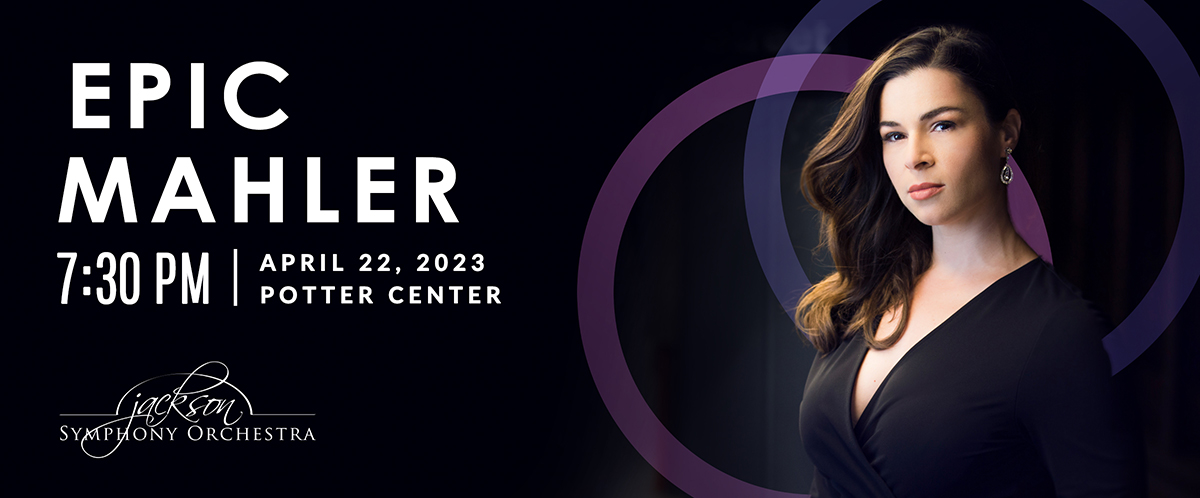 The Jackson Symphony Orchestra would certainly agree as it wraps up the 2022-23 Signature Series with Epic Mahler, set for 7:30 p.m. April 22 at the Potter Center on the campus of Jackson College. The JSO will perform Gustav Mahler's Symphony No. 3, which will feature an additional 20-plus musicians, four local choirs and a talented mezzo soprano soloist in Donata Cucinotta.
Mahler was interested in using the genre of the symphony "to embrace the world, to include everything," said Matthew Aubin, the Jackson Symphony Orchestra's music director.
"It means that he's not just pulling a melody out of his head and developing it in a very classical way but instead incorporating sounds of children's voices, of nature, using folk music, evoking the sounds of a town band or a pub band," Aubin said. "So, it's a real kaleidoscope of the world Mahler was living in and the emotions that a person experiences in life."
The first movement will last about 35 minutes, followed by a brief intermission. The highlight of the final five movements will be the performance by Cucinotta in the fourth and fifth movements and the involvement of two local women's choirs and two local youth choirs during the fifth movement. The concert will feature about 100 choir members from four local groups:
• The Jackson Chorale, directed by Wendy Treacher
• The Jackson College Chorale, directed by Dr. Richard Hintze
• The Jackson Northwest High School Choir, directed by Matthew Snell
• The Jackson Northwest Middle School Choir, directed by James Cumings
"This kind of helps with our mission this whole year, to really embrace our community partners," Aubin said. "It's awesome for all of these younger people to experience this great symphony and be a part of it, and also hopefully to have their friends and family experience it with us. It seems like such an appropriate way to end our season. It's a real grand finale."
The number of additional musicians on stage will be noticeable to regular attendees of JSO concerts.
"The orchestra is huge," Aubin said. "It's a larger string section than normal. The woodwinds section will be doubled. Normally, we have four horns. In this case we will have eight horns plus an assistant, so nine total. Normally, we have two trumpets. This time we have four trumpets. Four trombones. A tuba. Lots of percussion, and instead of one set of timpani we have two. We'll have two harp players on stage. It's a huge orchestra."
Aubin says concertgoers will be in for a real treat.
"Epic? I think mission accomplished," he said. "Mahler really did embrace the world and really tried to describe the human experience, whether that's the feeling of death, of nature, of our existence, to the childlike celebration songs, to love. It's epic in scale."
Tickets range from $5 (for students) to $35 and are available at the Potter Center box office as well as the JSO box office at Weatherwax Hall in downtown Jackson. They can also be purchased online at jacksonsymphony.org. There will be a free interactive lecture prior to the show at 6:30 p.m. Tickets are available at an additional cost for an afterparty as well.