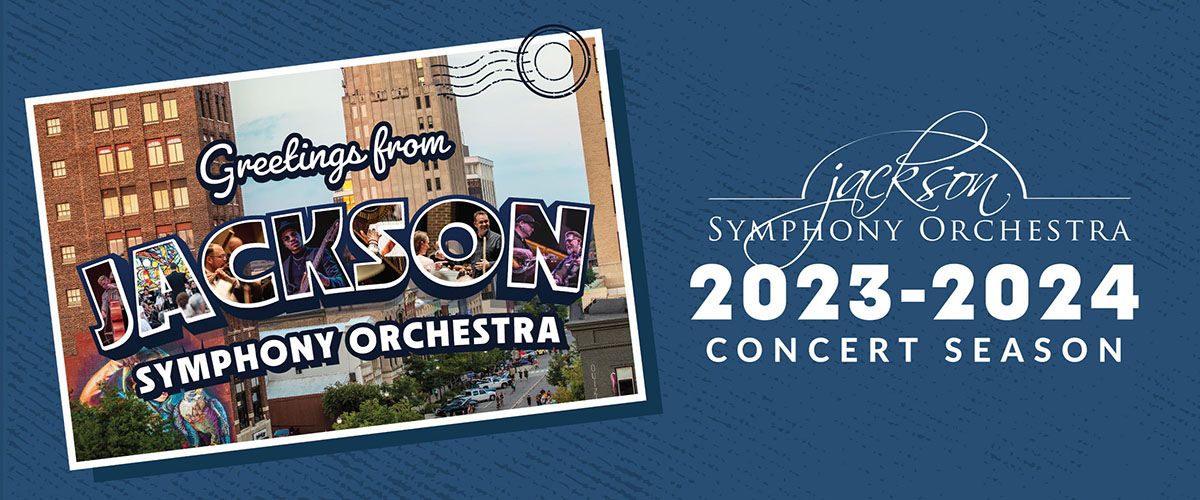 This is the time of year for music lovers pick up their Jackson Symphony Orchestra season tickets and put concerts on their calendars.
The full schedule of events is now available for the 2023-24 Jackson Symphony Orchestra season, which features: 
Five Classical Concerts featuring the full Jackson Symphony Orchestra.

Eight Music on Tap shows featuring performers from a wide variety of genres at Weatherwax Hall in downtown Jackson.

A special events calendar that features two events downtown, including a Summer Pops concert that is free to the public.
Season tickets are available now online at jacksonsymphony.org, by phone at (517) 782-3221 or in person at the JSO box office located at 215 W. Michigan Ave. in downtown Jackson. First-time season-ticket buyers can receive 50 percent off for the cost of the full Classical Concert Series subscription. Season-ticket brochures will be delivered to current season-ticket holders and are also available at the box office. Individual tickets will be available on August 1.
"We are absolutely thrilled with the slate of talented musicians and wonderful performances music fans from Jackson and beyond will get to experience throughout our 2023-24 season," JSO Executive Director Steve Trosin said. "Music Director Matthew Aubin has put together another excellent program for the JSO's 74th Season of classical concerts, highlighting music from different places by both well-known composers and those who have historically been underrepresented."

Some of the highlights: 
The Classical Concert Series theme this year is "Greetings From Jackson Symphony Orchestra" and each concert will highlight music from one area of the world. Greetings from Los Angeles, which will kick off the Classical Concert season, will feature the world premiere of a commissioned double concerto composed by Marcus Norris, a Jackson native and 2009 Jackson High School graduate.

The Irish Festival seems to sell out every year, and that likely won't change this year with Dàimh traveling all the way from Scotland to perform at Weatherwax Hall. Dàimh is the Gaelic word for "connection," which perfectly describes this band's interaction between band members as well as members of the audience.

The special events calendar includes a couple musical traditions for JSO fans: the free Summer Pops concert downtown and The Nutcracker, which will once again feature a partnership with dancers from Ballet Chelsea.
Contact
Mary Trosin, Marketing Manager
maryt@jacksonsymphony.org

Tickets
Online: jacksonsymphony.org

By phone: (517) 782-3221

In person: 215 W. Michigan Ave.

Classical Concert Series Schedule
Greetings from Los Angeles, 7:30 p.m. Oct. 7, 2023, Potter Center

Greetings from New York City, 7:30 p.m. Nov. 11, 2023, Potter Center

Greetings from Scotland, 7:30 p.m. Feb. 9, 2024, 7:30 p.m. Feb. 10, 2024, 2 p.m. Feb. 11, 2024, Weatherwax Hall

Greetings from Switzerland, 7:30 p.m. March 23, 2024, Potter Center

Greetings from Austria, 7:30 p.m. April 27, 2024, Potter Center

Music On Tap Schedule
(All concerts at Weatherwax Hall)
Jazz Night with the Pherotones, 8 p.m. Sept. 30, 2023

New Blues with Buffalo Nichols, 8 p.m. Oct. 14, 2023

Soulful Saturday with Harlem Gospel Travelers, 8 p.m. Nov. 18, 2023

Comedy Night with Heywood Banks, 8 p.m. Jan. 27, 2024

Indie Pop with Miki Fiki, 8 p.m. Feb. 17, 2024

Irish Festival with Dàimh, 8 p.m. March 16, 2024

Music in Motion with One More Night (ft. Josh Henderson), 8 p.m. April 20, 2024

Bluegrass-ish with Joseph Huber, 8 p.m. May 4, 2024

Special Events Schedule
Summer Pops: Greetings from Hollywood, 7 p.m. Aug. 25, 2023, Horace Blackman Park

Children's Halloween Concert, 3 p.m. Oct. 21, 2023, Michigan Theatre

The Nutcracker, Dec. 15-17, 2023, Potter Center

Spring Pops, 7 p.m. May 28, 2024, Michigan Theatre