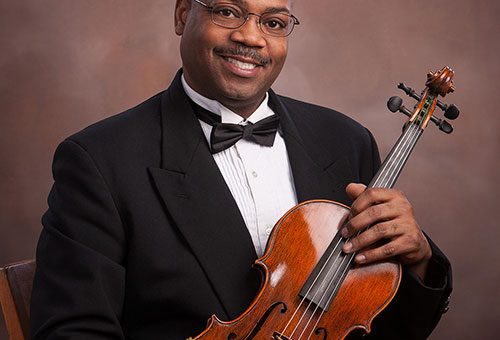 Who is Clyde McKaney
Clyde McKaney, a Jackson native, is the principal violist and a frequent soloist with the Jackson Symphony Orchestra. He has enjoyed teaching at the JSO's Community Music School since its founding in 1992. He began his musical studies in the Jackson Public School's 6th-grade string program playing the violin. In 1981, while still in high school, he joined the Jackson Symphony Orchestra. Just a couple of years later Clyde fell in love with the sound of the viola and decided to major in viola performance at the University of Michigan where he studied with renowned viola soloist Donald McInnes and Nathan Gordon, principal violist of the Detroit Symphony. He also majored in viola performance at Michigan State University where he studied with the New World String Quartet's violist Robert Dan.

While attending MSU, he was often invited to perform with the faculty in recitals. He went on to study in New York with Joseph Fuchs of the Juilliard School of Music. While there, Clyde was appointed principal violist of the Bach Chamber Orchestra performing Bach's Double Concerto with Mr. Fuchs and Glenn Dicterow, concertmaster of the New York Philharmonic.
Clyde has held principal violist positions and has been solo violist with many symphony orchestras in and around the mid-Michigan area including Battle Creek, Hillsdale, Lansing, Jackson, University of Michigan, Michigan State, and Interlochen Arts Academy.
Highlights of his many solo performances with the Jackson Symphony include the world premiere of Quixote! , written by JSO composer-in-residence Jonathan Bruce Brown, the complete Der Schwanendreher by Paul Hindemith and concerti by Telemann, Stamitz, Bach and Mozart.
Clyde currently resides in Jackson. He enjoys teaching the violin and viola, performing with the JSO, directing and performing with the JSO's Community String Ensemble, cooking and training his horses!
Career Highlight
I think that I hold the record of performing as a soloist with the JSO. I've played as a featured soloist 16 times!

About Clyde's Instrument
My viola is quite rare because it was made by an American woman, rather than a European man. The luthier's name is Anne Cole. She is from Albuquerque, New Mexico. My viola is truly magnificent!

Upcoming Events
Clyde's teaching schedule and performances with the JSO keep him busy he will be performing with and directing the Community String Ensemble's "Celebration of Christmas!" concert December 16th at 7:00 pm at Weatherwax hall.