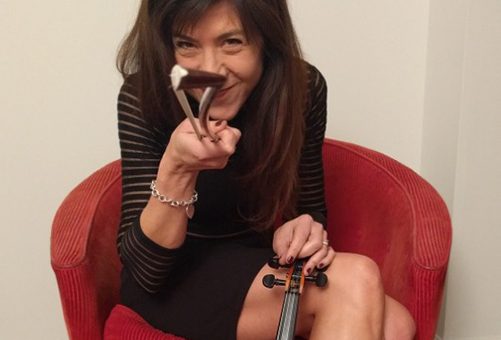 Who is Lisa Tarzia
Lisa plays violin with the Jackson Symphony Orchestra and is a substitute in the Kalamazoo Symphony Orchestra. She currently lives in Ann Arbor, Michigan except during the summer when she is on the violin faculty at the New England Camp in Sidney, Maine. Lisa began studying the violin at the age of 3 in one of the first Suzuki programs in the United States. She received her Bachelors from the University of Michigan and Masters from New York University.
Career Highlights
Lisa has been playing violin professionally since 1987. She has performed both nationally and internationally including a concert tour of China. Her greatest love, however, is teaching. For 31 years she has shared her love of music with her students. She's been on the violin faculty at EMU, Queensboro Community College (NYC) and Hillsdale College. She conducted the 7th and 8th grade orchestras at the Middle School at Parkside and HS orchestra at Jackson High School from 2008-2014. Currently, she is teaching in Detroit for Sphinx, the Detroit-based, national organization dedicated to transforming lives through the power of diversity in the arts.
About Your Instrument
After former DSO concertmaster and string instrument collector, Mischa Mischakoff passed away (February 1981), his son, who was a dentist in Saline Michigan, was selling all the instruments his father had collected over the year. Lisa's mother, who was a professional violinist, went and tried several of the instruments. She really liked this one and thought maybe one day Lisa would like it also. At the time, it was too large for Lisa. But once Lisa grew into a full-size instrument, it became hers. It was made in 1929 by Oreste Candi. It has the rich, dark red varnish the Candi instruments are known for. It also has a rich, dark velvety sound that Lisa fell in love with 35 years ago. She thought it sounded like warm dark chocolate. She still feels that way and is very much in love with its sound. Over the years, Lisa has entertained the idea of getting a different violin but has never found one she loves as much as this one.
Personal Tidbits
One of Lisa's favorite things about playing in an orchestra is being able to make music with musician colleagues who have, over the years, become friends. Her mother, and best friend, is also a professional musician (violist). Lisa is especially happy when she can share the stage with her mom. In addition to music and all things violin, Lisa loves running and being a dog-mom to her fur baby, Magnet.