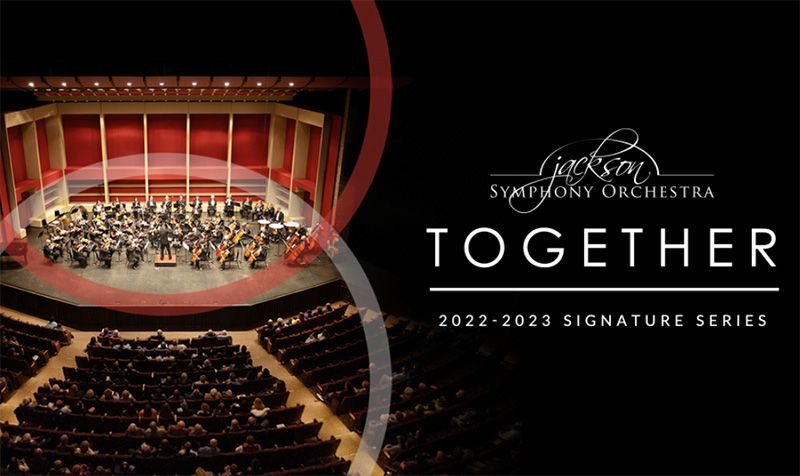 If you are looking forward to getting together for another year of great live music in Jackson, now is the time to lock in those plans and pick up those tickets.
The full schedule of events is now available for the 2022-23 Jackson Symphony Orchestra season, which consists of five Signature Series concerts featuring the full symphony orchestra, six Music on Tap shows at Weatherwax Hall in downtown Jackson and a special events calendar that includes the return of a live summer pops show downtown and a Halloween concert at the Michigan Theatre. Season tickets go on sale Monday, May 23.
"We couldn't be more excited to release the schedule for the JSO's 73rd season," JSO Director of Business Operations Steve Trosin said. "Through the Signature Series, Music on Tap and our schedule of special events, we truly believe we have something to offer to Jackson community members with diverse tastes in music styles and genres."
On Monday, season tickets will available online at jacksonsymphony.org, by phone at (517) 782-3221 or in person at the JSO box office located at 215 W. Michigan Ave. in downtown Jackson. Those who purchase season tickets save 20 percent off the cost of individual tickets and 35 percent of the cost of tickets purchased at the door. First-time season ticket buyers receive 50 percent off the retail price.
Season-ticket brochures will be delivered to current season ticket holders but are also available for pickup at the box office. Individual concert tickets will go on sale Sept. 1.
The cover of the JSO's 2022-23 season brochure makes it abundantly clear what the theme will be for this year's slate of Signature Series concerts. The word "TOGETHER" appears front and center on the brochure's cover.
"When we returned to the stage last season, we felt the overwhelming support and enjoyment from the Jackson community," JSO Music Director Matthew Aubin said. "This past year has reinforced our desire to engage, collaborate and bring our community together through our shared love of quality live music. So, in each performance in the upcoming season, we will celebrate an individual, organization, collaborator or friend who is an important part of our community."
Highlights of the JSO's new schedule include:
The Signature Series concert Pictures at an Exhibition will feature a world premiere piece inspired by the work of Jackson-born artist Philip Campbell Curtis as well as the JSO's first collaboration with Evan Struck, a local speed painter who will bring a piece of art to life on stage during the performance.
A highlight of the Music on Tap Series will be the Irish Festival featuring The Founding, a Kalamazoo progressive folk band with roots in traditional Irish music. The JSO sold out of tickets for a show by the band in March 2020, but it was canceled due to Covid.
The Summer Pops concert Heroes and Heroines will honor both fictional (from Superman to Wonder Woman) and real heroes and heroines (local war heroes and veterans) in a free show at Horace Blackman Park in downtown Jackson.
Contact
Mary Trosin, Marketing Manager
Tickets
jacksonsymphony.org/concerts-and-events
(517) 782-3221
In person at the box office (215 W. Michigan Ave.)
Signature Series Schedule
The Maestro Returns, 7:30 p.m. Oct. 1, 2022, Potter Center
Fire & Ice, 7:30 p.m. Nov. 12, 2022, Potter Center
Ballet Français, 7:30 p.m. Feb. 10, 2023; 7:30 p.m. Feb. 11, 2023; and 2 p.m. Feb. 12, 2023; Weatherwax Hall
Pictures at an Exhibition, 7:30 p.m. March 25, 2023, Potter Center
Epic Mahler, 7:30 p.m. April 22, 2023, Potter Center
Music On Tap Schedule
(All concerts at Weatherwax Hall)
Indie, featuring Brian Dunne, 8 p.m. Oct. 15, 2022
Lush & Ethereal, featuring Gracie and Rachel, 8 p.m. Nov. 19, 2022
Bluegrass-ish, featuring Joseph Huber, 8 p.m. Jan. 21, 2023
Jazz Night, featuring Ben Rosenblum, 8 p.m. Feb. 25, 2023
Irish Festival, featuring The Founding, 8 p.m. March 18, 2023
Atmospheric Indie Folk, featuring Frances Luke Accord, 8 p.m. May 6, 2023
Special Events Schedule
Summer Pops 2022: Heroes and Heroines, 7 p.m. Aug. 26, 2022 Horace Blackman Park
Halloween Children's Concert, 3 p.m. Oct. 29, 2022 Michigan Theatre
The Nutcracker, 7 p.m. Dec. 9, 2022; 2 p.m. Dec. 10, 2022; 7 p.m. Dec. 10, 2022; 2 p.m. Dec. 11, 2022; Potter Center
The Music of Harry Potter, 7 p.m. May 20, 2023, Michigan Theatre