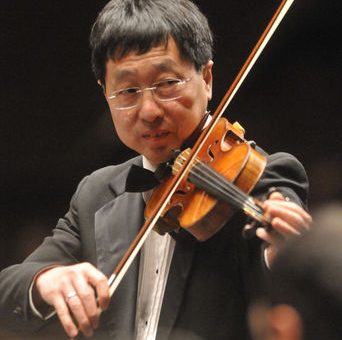 The concertmaster (from the German Konzertmeister) is the second-most significant person in an orchestra after the conductor. In an orchestra, the concertmaster is the leader of the first violin section. Any violin solo in an orchestral work is played by the concertmaster, (except in the case of a concerto in which case a guest soloist plays). It is usually the case that the concertmaster be the most skilled player in the violin section.
The concertmaster sits to the conductor's left, closest to the audience, in what is called the first chair. The concertmaster makes the decisions on bowing and other technical details of violins, and sometimes all of the string players. He or she leads the orchestra in tuning before concerts and rehearsals. Their primary function is to act as the conduit between the conductor and the orchestra. The concertmaster will usually walk onstage individually after the orchestra has been seated, bow and receive applause on behalf of the orchestra. As the representative of the orchestra, he or she will usually shake hands with the conductor at the beginning or end of a concert as a sign of mutual respect and appreciation.
Who is the Jackson Symphony Orchestra's Concertmaster?
Dr. Xie Min, JSO Concertmaster – Dr.Xie Min graduated from Michigan State University with the Doctor of Musical Arts in violin performance and has been the JSO Concertmaster for over 10 years. He is also a violinist in the Windsor Symphony Orchestra in Canada. He started his career as a violinist with the Shaanxi Opera in China at age 13, graduated from the Xi'an Conservatory of Music with a Bachelor of Arts Degree and as first violin in the Xi'an String Quartet, was invited to MSU to study with the Verdehr Trio and member of the Juilliard String Quartet. He attended the international Violin competition in Munich, Germany, where he performed with musicians in the Bavarian Radio Symphony Orchestra. Min has served as Principal Second Violinist with the Greater Lansing Orchestra, Concertmaster of the MSU Symphony Orchestra, and Artist in Residence Concertmaster of Faculty Orchestra at Blue Lake Fine Arts Camp.