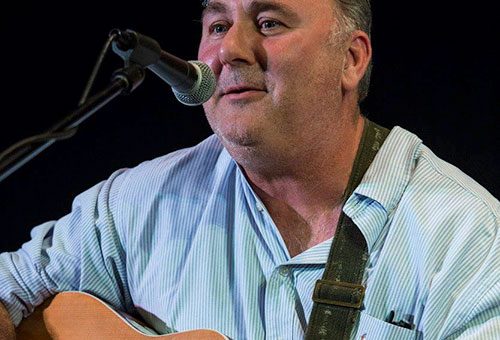 Kerrville Folk Festival, New Folk Winner, Joe Shields to bring his funny, poignant a uniquely original songs to the Jackson Symphony's Music on Tap Series on Saturday, June 9.
On Saturday, September 9th, Kerrville New Folk Winner, Joe Shields, aka Joe Cartoon, aka Cousin Joe Twoshacks will play a concert at Weatherwax Hall (The Wax), the Jackson Symphony Orchestra's Performing Arts Center located at 215 W. Michigan Ave. in downtown Jackson. Tickets are $15 in advance or $20 at the door and are available by clicking here, or by calling 517-782-3221. The show will be opened by Northern Michigan singer/songwriter, Lara Fullford. This concert is sponsored by Commonwealth Associates.
Joe Cartoon has given way to Joe Shields. That means it's mostly about the music these days, even if there's still plenty of room for clever wordplay and creativity. After what Grand Rapids animator Joe Shields concedes was an "extremely rocking" time as Joe Cartoon, creator of a wildly popular and irreverent cartoon series that became a true trailblazer on the Internet some 16 years ago, the artist has turned his attention to music. And if recent history is any indication, there's a chance the 55-year-old West Michigan singer and guitarist might be just as successful in this new venture.
In 2016, Shields earlier was named one of just six winners of the prestigious Kerrville New Folk competition in Texas, chosen from 32 finalists and more than 600 entries submitted by emerging songwriters from across the globe.
"No one was more surprised than me," says Shields, who released his debut album, "Rocks & Toads," in 2014, combining his songs with videos by 12 different animators. "They called my name and I could not believe it. … I was very honored. It's validation for what I'm trying to do."
Doors for this performance open at 7:30 PM and music will begin at 8:00 PM. Refreshments, including a cash bar, will be available.