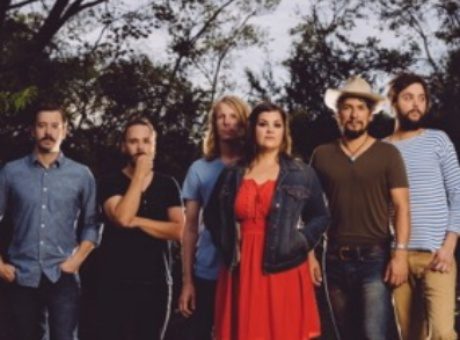 On Friday, May 6th, at 8:00 PM, Knoxville's The Black Lilllies will play a concert at Weatherwax Hall (The Wax), the Jackson Symphony Orchestra's Performing Arts Center in downtown Jackson. Tickets are $18 in advance or $20 at the door. The show will be opened by the Dallas, Texas duo, The O's.
The Black Lillies are a band for the ages: rich, rootsy tunes performed with as much heart as technical virtuosity. If you ask them, they'll tell you they play "Tennessee music" – combining strains of swampy Memphis soul and blues with Nashville's classic country and East Tennessee's traditional Appalachian style – while Rolling Stone describes it as "country music with a soul-rock infusion, supported by bandleader Cruz Contreras' smart songwriting and tight musicianship." Either way, it's music that stirs your soul, touches your heart and makes you want to dance. On October 2, the band released their fourth album Hard to Please (Attack Monkey/Thirty Tigers), which American Songwriter sums up as "a soulful mix of upbeat Americana and tender ballads," while Vanity Fair notes that "their sound continues to cross generations and musical genres – country, folk, blues and add in a touch of the Dead, for good measure." It's no surprise that Hard to Please was an immediate critical and radio success, hitting #1 on the Roots Music Report and #4 on the Americana radio charts as well as debuting at #12 on Billboard Heatseekers and #30 on Billboard's Top 200 Country Albums – the bar had already been set high by their previous releases. 2013's Runaway Freeway Blues conquered the Billboard Top 200 country charts and was selected for dozens of "Best of" lists, catching the attention of NPR, CMT, Wall Street Journal, Guitar World, Garden & Gun and more for what Entertainment Weekly calls "strong roots-folk songwriting, sweet harmonies, and charismatic indie spirit."
Their raucous live show has earned them festival slots and enthralled audiences at venues ranging from Bonnaroo and Stagecoach to the legendary Grand Ole Opry, where they hold the distinction of having performed more often than any other independent band. The music is breakneck, brazen and beautiful; sultry soul, honky-tonk heartache, winding jams and flat-out rock'n'roll, tied together with soaring harmonies that "bring back echoes of practically every great male/female duo of the past several decades … [the sound is] one for the ages, and, one suspects, ages yet to come," according to Glide Magazine. Make no mistake: when you see The Black Lillies live, you definitely won't be hard to please.
The concert will be opened by the Dallas duo, The O's. They have been touring relentlessly since they began as a band in 2008 and have released four albums. Make sure you're there early as they promise to get the night off to a rollicking, good start!