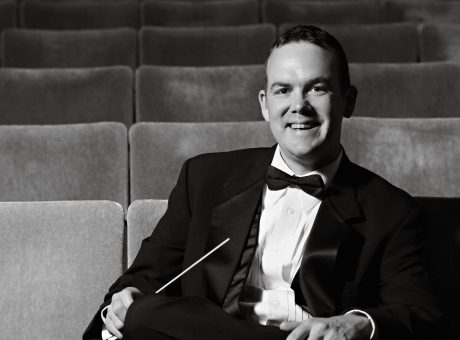 After eighteen months of activity, the Jackson Symphony Orchestra Board of Directors is pleased to announce the appointment of Matthew Aubin as the orchestra's new Music Director Designate for the 2016-2017 season moving into the role of Music Director in the 2017-2018 season. The selection process consisted of 6 visiting guest conductors performing with the orchestra, an evaluation method including both orchestra and audience input and a selection committee which reviewed the materials and reported to the board. Board Chair Tim Keener remarked, "Jackson and the JSO in particular are fortunate to have someone of Mr. Aubin's skill and experience to take the helm of the orchestra moving forward. It's also very beneficial that he and his wife now make Jackson their home."
"From 76 applicants we narrowed it down to six, each of whom did an excellent job with the orchestra. We are so fortunate to have attracted such an impressive pool of talent. I think it was most fortunate that the audience and the orchestra had the same first choice." says Maestro Osmond looking forward to his 40th and final season with the JSO in a conductorial capacity.
When asked for his reaction to the appointment Mr Aubin said "I'm excited and honored to have been appointed Music Director Designate of the Jackson Symphony Orchestra. When my wife and I moved to Jackson last summer and were introduced to the JSO, we were immediately impressed by the talent and musicianship. The JSO is an important treasure in our community. I look forward to continuing to build upon the great work that Maestro Osmond has accomplished during his 40-year tenure."
Matthew Aubin is Artistic Director of The Chelsea Symphony and a consultant for the Golden Globe Award winning television series, Mozart in the Jungle. He has conducted and performed all across the United States and abroad. He is a passionate advocate for American music. Dr. Aubin has an extensive background in music education, and has served on the faculties of The Hartt School and Washington State University. Additionally, he has designed and conducted many programs for the Hartford Symphony Orchestra. Dr. Aubin has conducted scholarly research on the French composer Fernande Breilh-Decruck and has rediscovered and performed many of her unpublished manuscripts. In addition to his conducting career, Dr. Aubin continues to stay active as a freelance hornist.
More articles about Matthew Aubin: