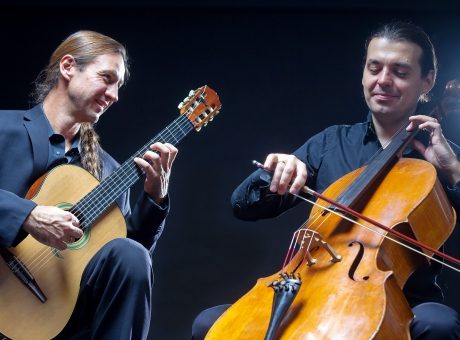 On Saturday, August 20th, Richter Uzur Duo (Brad Richter, Guitar and Viktor Uzur, Cello) will play a concert at Weatherwax Hall (The Wax), the Jackson Symphony Orchestra's Performing Arts Center located at 215 W. Michigan Ave. in downtown Jackson. Doors open for this performance at 7 PM and music will begin at 7:30. Tickets are $15 in advance or $18 at the door.
The Richter Uzur Duo approaches the concert stage with effortless virtuosity, soulful musicality and self-effacing wit. Trained at the Royal College of Music and the Moscow Conservatory, respectively, guitarist Brad Richter and cellist Viktor Uzur are consummate performers and composers, each having played around the globe to critical acclaim and international awards.
Together, they pair exquisite originals with blazing improvisations and iconic works by composers such as Bartok, Gershwin, Rimsky-Korsakov and Saint-Saens. Their unique programs combine elements of classical music, rock, Eastern European folk and North American indigenous music—all played with a native sense of vernacular, integrity and charm—to produce a sound that is all their own.
A staple on Performance Today, the duo tours regularly to such venues as the Bonneville Chamber Music Festival, University of Arizona Presents and the Kirkland Performance Center. The group recently made their New York City debut at the Rubin Museum of Art, introducing their latest touring program, Fragments Transcending.
"Effortless precision and musicality… The interplay between the two is playful yet stunning… One of the most exciting duos on the scene today."
— Guitar International
"Uzur is a phenomenal cellist… graced by a truly singing tone, spot-on intonation, and elegantly refined phrasing."
— Fanfare Magazine
"Like Franz Liszt with the piano, Brad Richter utilizes techniques of his own invention and brings them into a framework that works so beautifully."
— George Shangrow, KING FM Seattle