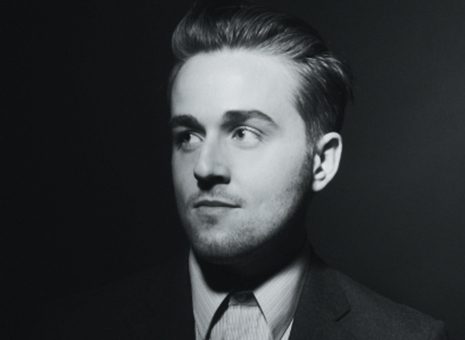 On Friday, July 22nd, Seth Glier will play a concert at Weatherwax Hall (The Wax), the Jackson Symphony Orchestra's Performing Arts Center located at 215 W. Michigan Ave. in downtown Jackson. Tickets are $15 in advance or $18 at the door and are available at www.jacksonsymphony.org, or by calling 517-782-3221. The show will be opened by Jackson native, Victor McDermott and the concert is sponsored by The Walton Agency.
We are thrilled to have Seth Glier back to play another concert at The Wax. Those who remember Seth's show here with Joe Nerney accompanying him in July 2014 remember a night of special and up close music. That type of experience is what live music is all about in our book.
If you're not familiar with Seth, let us bring you up to speed: Despite his relatively young age, Massachusetts based singer/songwriter/pianist/guitarist Seth Glier is a seasoned troubadour. Averaging over 250+ live performances annually Seth has gone from opening act to headlining his own shows and playing major folk festivals. He's shared the stage with artists as diverse as James Taylor, Ani DiFranco, Martin Sexton, Emmylou Harris and Ryan Adams and has quickly become known for his passionate live sets. His music has also caught the ears of fans, industry and critics alike with USA Today stating that his "exquisite tenor echoes Bruce Springsteen and Billy Joel." The incredible acclaim on his sophomore record, The Next Right Thing, led to the single "Lauralee" hitting #1 on Clear Channel's NEW! Discover & Uncover program as well as a Grammy® nomination.
His third album, Things I Should Let You Know is steeped in all the most gorgeous aspects of Americana, folk, blues, pop and soul with each of the 13 tracks it encompasses telling its own story, weaving tales of love, pain and epic self-realization from a young man coming into his own, all wrapped in sweeping melodies and striking vocals.
Seth had a strong showing in 2015 as he released If I Could Change One Thing, his fourth album which is collection of memorable pop songs that led to opening gigs for artists like Leon Russell and Brent Dennon. Glier also completed his first European tour, opening for the legendary Ronnie Spector. Glier wrote one of the strongest tracks on the album, "Love is A Language," about his non-verbal autistic brother Jamie, who he has always cited as one of his greatest inspirations. Sadly, Jamie died in October, but his spirit and inspiration will live on in Glier's music.
Doors for this performance open at 7:30 PM and music will begin at 8:00 PM. Refreshments, including a cash bar, will be available.