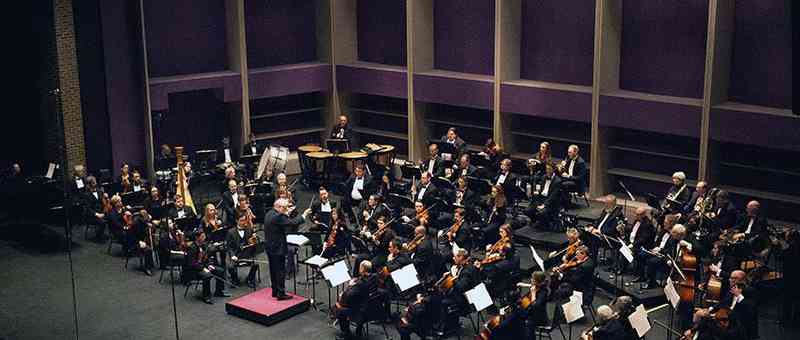 A virtuoso musical celebration for retiring Maestro Stephen Osmond was delivered Saturday by the Jackson Symphony Orchestra and three soloists in the first of two farewell concerts.
Osmond, the JSO's conductor and music director for 40 seasons, showcased some of his best-loved music and musicians in a two-hour concert titled "Favorite Reflections."
Four standing ovations punctuated the performance at Jackson College's Potter Center.
"That was amazing," audience member Philip J. Curtis said at the conclusion.
Osmond's second farewell concert will be April 29, and it promises to be a can't-miss evening of music and memories. Titled "Full Circle," the program will feature music from the first concert Osmond conducted with the JSO two generations ago.
"I really look at this as a big celebration of music," Osmond said. "It's all about friends and music."
Osmond became the JSO conductor in 1978, assuming a position previously marked by frequent turnover with 10 conductors in 27 years. One indication of Osmond's towering influence on the arts scene in Jackson is this amazing statistic: It will take until 2030 before his years of leadership are matched by all other conductors of the JSO, combined.
For his "Favorite Reflections" concert, Osmond chose what he acknowledged appears to be an unconnected collection of music composed by Jose Pablo Moncayo, Wolfgang Amadeus Mozart, Fredric Chopin, Igor Stravinsky, Felix Mendelssohn, Edward Elgar, Serge Prokofiev, and George Gershwin.
The connecting thread, in Osmond's view, is each selection clearly and powerfully expresses the emotion the composers intended to convey.
Sharing the musical spotlight were three extraordinarily talented soloists who have been friends of the JSO over many years.
Philip Mason, former JSO concertmaster for 40 years of his own, soloed on a Mozart adagio for violin and orchestra. Pianist Arthur Greene joined the orchestra for a Chopin piano concerto that, as Osmond explained, Greene first performed with the JSO in masterful fashion as an emergency replacement for a New York musician who cancelled at the last minute. Ralph Votapek concluded the evening's program on piano in the JSO's exceptionally powerful performance of Gershwin's Rhapsody in Blue.
Over his four decades of leadership, Osmond has given Jackson and its orchestra both organizational stability and unswerving dedication to musical excellence.
One sign of the organizational stability is a seamless transition to leave the JSO in highly talented hands after Osmond's departure. Music Director Designate Matthew Aubin was hired last year, and he conducted the JSO for its first three Signature Series concerts this season.
For his part, Osmond credited the organizational success of the JSO mostly to the business acumen of current and past symphony board members.
"The orchestra has never missed payroll," Osmond said. "How many orchestras in the U.S. do you think can say that, over 40 years?"
Musical excellence, Osmond said, is based on a foundation of superior talent among hundreds of men and women who have been members of the JSO under his baton.
"You can only imagine what a thrill it is to work with these people on a regular basis," Osmond said. "The talent here is just amazing."