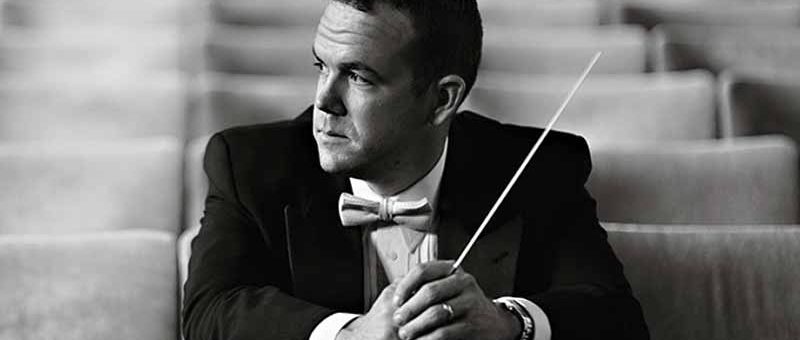 Maestro, conductor. What's the difference?
There is no difference. Ultimately, each language has a different term. Italian (maestro), English (conductor), French (chef d'orchestre) and German (dirigent). Each term refers to the ability to lead.
What does a conductor do?
Approximately one year before the orchestra performs a concert, I select the music. Often I use a theme to help provide unity. I choose soloists to perform with the orchestra. Two months before the concert, I begin to study. I sing the music, play it on the piano and sometimes listen to recordings. I try to develop an interpretation. The composer notates many things in the score, but there are many choices that I need to make. For example, if both the trumpet and the violins have the melody, I may ask the violins to listen back to the trumpet because I want that sound to be the dominant voice. Sometimes I make additional markings in the music ahead of time so that we can save valuable rehearsal time. Many people are astonished to learn that the orchestra only rehearses during the three nights before the concert for 2.5 hours. During the rehearsal and performance, I am trying to use my gestures and facial expressions so that the music sounds like the interpretation that I have developed in advance. Sometimes I stop and make verbal suggestions. It's essential to note where the conductor stands. I stand in front of the orchestra in the center because it is the best place to listen. As I'm listening, I may look at one section or person so that the rest of the orchestra knows that they are important…almost like a spotlight. As I listen, I may need to anticipate spontaneous corrections. Sometimes I help to reassure a musician that has a solo after many measures of not playing that they are coming in at the right time.
What makes a good conductor?
First and foremost, I need to know the music well. I have to have the technique (both physically and verbally) to communicate my ideas to the orchestra. I have to be so comfortable with my technique, that I can listen as I am moving. I have to be humble in front of the orchestra and understand how to motivate the orchestra to get the best possible performance. I have to be a spokesperson for classical music. I have to be passionate about the music I choose to perform and be able to tell people about it.
How hard is it to be a conductor?
It is difficult. All conductors have to start as outstanding players. I play the horn. I have performed with many professional orchestras and small ensembles. This training has helped me to learn the orchestral repertoire and understand what I need and want from a conductor. When I started conducting, it was necessary for me to learn how to study scores, attend masterclasses with experienced teachers and ultimately to become comfortable letting myself go in front of an ensemble (this is a similar feeling that athletes get when they're in the zone). Many conductors
prepare and never get the opportunity to conduct a professional orchestra because there are so few positions. I was lucky to lead the Hartford Symphony Orchestra early on in my career. They played really well and hardly made any mistakes. This initial experience with a professional ensemble taught me how important it is to have a strong interpretation entering the first rehearsal. Professionals come to rehearsal prepared. It is my job to have a vision for each piece that we perform. I have been lucky to conduct and play with many great musical ensembles. I am thrilled to have the opportunity to lead a professional orchestra as accomplished the Jackson Symphony Orchestra.
Meet Matthew Aubin, Music Director of the Jackson Symphony Orchestra
A passionate advocate for American and contemporary music, Dr. Matthew Aubin has conducted and performed internationally from Benaroya Hall to Carnegie Hall to the Musikverein and many stops in between. After a national search yielded nearly 100 applicants, Dr. Aubin was chosen from a list of six finalists as Music Director of the Jackson Symphony Orchestra (Michigan). Additionally, Dr. Aubin serves as Artistic Director for The Chelsea Symphony(TCS) in New York City. In this role he has worked to expand the symphony's prestige and recognition. Dr. Aubin has played a principal role in the initiation and development of The Chelsea Symphony's annual competition for emerging New York area composers. The Conductor Laureate of the Seattle Symphony and music director of the All-Star Orchestra, Gerard Schwarz, adjudicates the competition. Dr. Aubin has led TCS in their Lincoln Center Debut and conducted the New York City premieres of works by Mark O'Connor, Gerard Schwarz and Caroline Shaw, among others. During his time as Artistic Director, TCS has also featured many celebrities as narrators for their annual holiday concert. Additionally, Dr. Aubin serves as a consultant for the new Amazon Prime and Golden Globe award-winning television series Mozart in the Jungle created by Roman Coppola and Jason Schwartzman.
Dr. Aubin is the foremost scholar on the French composer Fernande Breilh-Decruck. He has earned multiple research grants to study her significant life and work. Dr. Aubin is a champion of the critical role of women in composition and is working to promote Decruck's newly discovered lost music. Dr. Aubin has edited and created critical editions of her work, which are now in the process of publication. He has collaborated with several TCS musicians to organize performances of Decruck's music in the United States and abroad. Dr. Aubin continues to be active as a freelance horn player and regularly performs across the country. Before deciding to devote his time entirely to TCS, Dr. Aubin was the Educational Programs Conductor for the Hartford Symphony Orchestra and served on the faculties of Washington State University and The Hartt School.